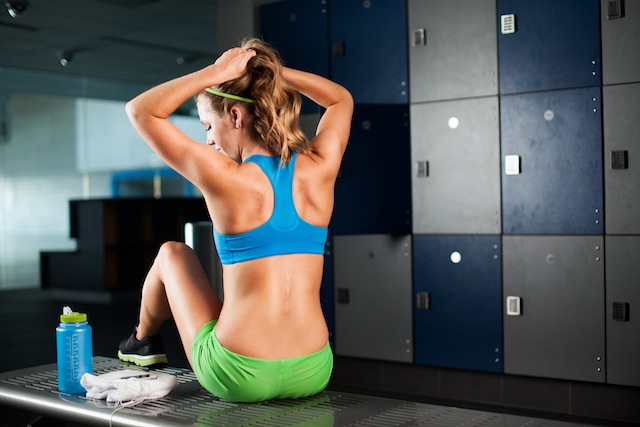 We workout so we'll look and feel our best – the fact that we sometimes look a touch disheveled afterwards is an unfortunate side effect. In our constant effort to stay diligent to our workouts and not have it impact our hair and makeup any more than necessary, we turned to the experts!
Workouts can leave your skin a sweaty mess. "On the go, I grab makeup wipes that are non-clogging and gentle.  After I wipe off all of the sweat and bacteria post-workout I use tinted moisturizer. Post- workout I am good to go!" Adriana Martino, co-founder of SKINNEY Medspa.
Less is more. It's not good to workout with too much makeup on because as you sweat it seeps into your pores. "I'd recommend wearing  mineral makeup. This also acts great as a good 5-minute beauty routine to get ready fast in the morning before work and it's super easy to touch up after a workout,"  fashion stylist Lily Duevel, founder of adoptedSTYLE.
Cool down. "When you've just completed an intense cardio workout, run your wrists under cold water to cool down your body temperature and eliminate extra perspiration on your scalp," says celebrity stylist Oscar Blandi.
MORE: YouTube Workouts You Can Do In Under 20 Minutes
Perfect pony. "Local Barre girls love using simple, no crease hair ties to pull their hair back for class. Release your chignon after class and no one will know you just spent the last hour shaking at the barre!" says Amber Hirsch, lead fitness and dance instructor at Local Barre fitness studio in Hoboken, New Jersey.
Dry on, dry off. "I always rough dry to get the sweat out, then mist a dry shampoo at the roots and re-style the front, or throw it up into a braided bun.  Also, for people with a fringe, you could always just wash the bangs and re-blowdry for a refreshed style," says Judy McGuiness, stylist at Mizu New York Salon.
Dry Shampoo is your best friend as you hit the gym. "Make sure you apply the product directly to your roots before and after your workout. Doing so will absorb the oil and sweat  that can ruin your blowout," says Celebrity Hairstylist Meghan Frayne of Angelo David Salon.
Wet hair? "Braid it. Do two pigtail braids on either side of your head and twist them around in low buns, or wrap them around the top of your head for
an urban pioneer look," says Shaun SureThing Owner, Seagull Hair Salon in New York City.
Keep blotting papers handy for the next few hours to tackle any post-workout shine, suggests Marla Malcolm Beck, CEO of Bluemercury.  Marla recommends Bobbi Brown Blotting Papers ($20, Bluemercury.com)
Image via Lear Miller Photo/ImageSource