Just in time for spring 2010, Marshmallow Peep-inspired hair hues! These hairstyles prove that it's totally modern to go utterly unconventional and still look fabulous. The colors are unexpected, and yet, don't veer into Mrs. Betty Slocombe territory of '80s British sitcom Are You Being Served fame.
Credit: © Jamie McCarthy/WireImage
Kelly Osbourne recently premiered lilac locks. The effect is surprisingly pretty and wearable. It suits her skin tone and eye color.
Credit: © Michael Loccisano/Getty Images
The ever-fashionable Ashley Olsen flaunted blue and green streaks in her hair a few months back at an event celebrating Tim Burton at the Museum of Modern Art.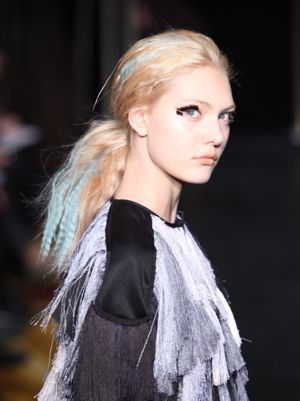 Credit: Wella Professionals
Turquoise tresses ruled the runway at the Fall 2010 Cynthia Rowley fashion show. Eva Scrivo for Wella Professionals custom colored hair extensions in varying shades of blue.
Is this a trend in which you'd partake? Or is it too avant-garde for you?
Find out how you'd look in Kelly Osbourne's hair in the virtual Makeover Tool.