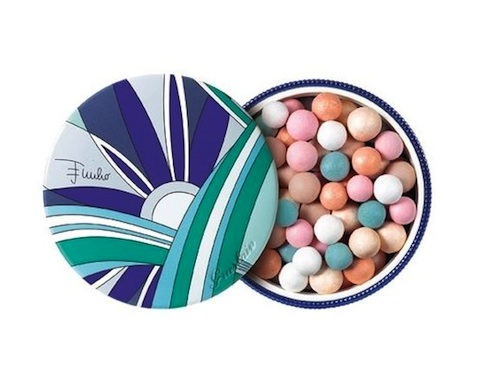 There is yet another beauty collaboration on the horizon. Laudomia Pucci and Guerlain creative director Olivier Échaudemaison teamed up for the release of the Terra Azzura color range. The entire collection was inspired by Winter Capri — the iconic Pucci archival prints that are laced with blue and green swirls.
The collection includes a bronzer/blush palette, an Ecrin 4 Couleurs Eye Shadow, a new Le 2 Mascara in Capri (a bright blue!), a new shade of Khol Kajal eyeliner in Blu Acqua,  three shades of Terracotta lip gloss, and two new Terracotta nail polishes.
The entire collection will be available May 1 on NeimanMarcus.com, but what we are most excited to get our hands on is this $58 Meteorites Perles d'Azure. It includes Guerlain's classic powder pearls in shades of pink, ivory, tangerine, bronze and turquoise encased in a tub decorated with the Pucci motif.
According to Style.com the lid features the Italian designer's original, hand-scrawled signature and a series of implicit letters that spell out "must own."