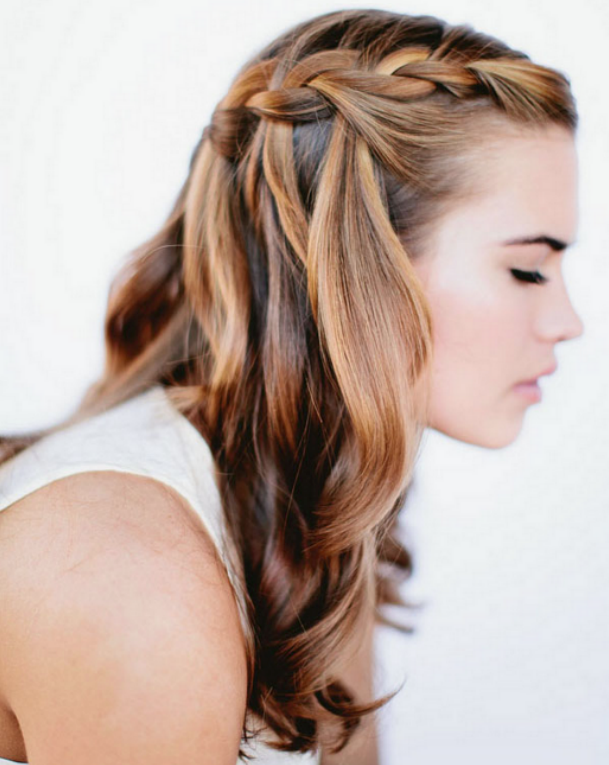 With Prom season just around the corner, many of you ladies have started to dream up your hair and makeup for the big night. While a gorgeous dress is obviously on the list of things to buy, a stop at the salon for a prom-worthy updo isn't always in your budget. Whether you want to give yourself glam curls, a dance-worthy half-up style or a fun chignon, there are a few key tips to learning how to get a look to be event-worthy while also having the ability to last all night.
We spoke to celebrity hairstylist Kevin Mancuso (the creative director behind Nexxus salon hair care) and picked his brain for tips on how to get some of the most lust-worthy styles in the courtesy of your own bedrooms, using your own products. Below, Mancuso details how to get any look you could want for prom (with a few of his recommendations, and a whole lot of tips)! Read on for more …
Beauty High: For the girls going to prom who want to wear their hair up, do you have any suggestions for an easy updo that they could do? 
Kevin Mancuso: There are so many different styles. I think that most girls want to look really special, and they want to have that little detail, and they want to have that magical look, so we're still seeing that braid idea incorporated without just being Heidi or some granny sort of braid thing. Change the braid – instead of a three strand, maybe a four strand. And then if you push it back, if you hold one strand and push the other two strands back, you create this knotty look and it looks really interesting. The hair takes on a decorative look, almost as if there were a flower at the end of the braid.
I also like, leading up to a prom event, braiding your hair the day before to get that amazing texture to be able to grab the hair and fold it into beautiful styles, which happens much easier when you have a texture like that. It's especially good for girls with slippery hair and straighter textures.
Say they want to do a half-up style. Do you have tips to make it look a little bit more polished? Those can be hard to pull off for an evening event. 
There's a couple ways of doing it, and I think that the more modern way of doing it is to create a little lift at the crown of the head by simply teasing it. You can do a side-part, a center-part, or the bump. Take two sections of hair at the sides, and you can do this in three different ways. One can just be taking the band of hair from each side of your head, then take that hair and contain it. That way, in the back, it can literally be tied in a knot. The second look is to tie a knot, or bring the two together, then put an elastic and tie a knot with your hair. Thirdly, you could braid that instead of tying it and it's like a little braid in the back. These sections from the side can be twisted or braided, so there can be a braid element containing it.
Now, for the people who want to wear their hair down, how do you recommend keeping it sleek and styled the entire night? 
First of all, the most important thing for a girl who wants to have a nice thick waves set is to start off with thick hair. If you don't have thick hair naturally, you probably want to throw in an extension because it'll keep the density up and keep the look a little stronger. But with curly hair, for instance, it's going to be easier to curl. The smoothness and style itself is better maintained—if you think about your style when you start in the shower, it will come out looking better. Start by using shampoo and conditioner that will set you up with a successful style that retains the set, and you'll want to do less silicone products if your hair is medium to fine. In texture like thick hair, that's where silicone is okay, but I would still back off a bit on too many silicone products. The Hydra-Light range from Nexxus is amazing for curls, and for set retention. Make sure you let your curls cool, because that is what is key to making them set and stay put. Center parts are probably much more manageable, and an easier thing to maintain throughout the night because you're splitting the difference. When you part your hair on the side, it's going to look beautiful for the first couple of hours, but once you start dancing and hanging around, it's going to fall forward, so the high just off-center to center parts are great for longevity.
Image via Once Wed