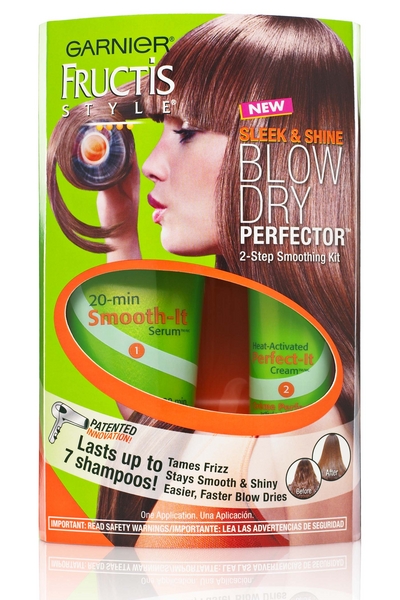 Tired of frizzy hair that just won't behave, no matter what you do to it? Forget the expensive salon straightening and try this two-part smoothing system instead. Not only is it easy on your wallet, it also works wonders to help tame your unmanageable mane and create smooth, sleek, well-behaved hair. Simply apply the Smooth-It Serum to freshly-washed, damp hair and leave in for 20 minutes. Rinse out and then apply the Heat-Activated Perfect-It Cream throughout your hair and blow dry or flat iron as usual. Not only will your hair be instantly smoother, shinier and more manageable, but your subsequent blow dries will be faster and easier too!
The treatment lasts for up to seven shampoos and won't cause your locks to look limp or flat since it uses rice oil, a weightless conditioner, to help seal in that lust-worthy smoothness. Best of all, you can still wear your hair curly or wavy if you so choose–just air dry or use a diffuser after your shower to create sexy, frizz-free texture.
Price: $9.99
Where To Buy: ulta.com
This post is sponsored by Garnier and the product was supplied to Daily Makeover for review. The information included is the honest opinion of our editor. Please read our Editorial Ethics Pledge if you'd like to know how we select products to feature.