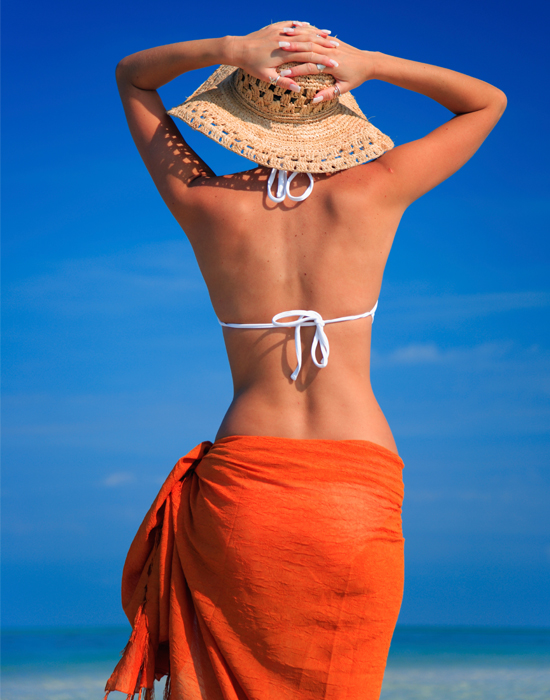 Something as small as blemishes on the shoulders or red acne along the bikini line can be enough to make a woman feel self-conscious about baring any skin. We spoke with Dr. Debra Jaliman, dermatologist and author of Skin Rules: Trade Secrets from a Top New York Dermatologist about the best ways to keep body acne at bay.
You should always start with a good acne-fighting body wash. When choosing one, you want to be sure it won't dry out the skin. "Salicylic acid is a good ingredient to look for in a body wash to prevent acne," says Dr. Jaliman. "But aloe, chamomile and vitamin E are good to prevent drying out the skin. One of the best products I've found is Phisoderm Anti-Blemish Body Wash ($5.79, drugstore.com)." Another salicylic acid wash she recommends is Neutrogena Body Clear Body Wash ($6.49, neutrogena.com), which contains glycerin to moisturize skin.
Exfoliating your body as well as your face is key. "It's best to exfoliate your body on a daily basis, either with a sonic cleansing system or with a pouf or loofah. Do it at the end of the shower when the skin is very hydrated." We love Jurlique Body Exfoliating Gel ($40, jurlique.com) because it's gentle enough on the most sensitive of skin and exfoliates without drying because of its mix of glycerin and avocado oil.
Break out during a workout? Sweating can be a main cause of acne. "It's best to wear clothes that breathe when working out," Jaliman says. "Choose natural fibers like cotton or some of the new high tech fabrics that wick away moisture. Don't wear spandex or tight fitting garments that increase sweating. It's also very important to shower right after you exercise. If you can't shower, then I tell my patients to bring pads with salicylic or glycolic acid to wipe over their acne-prone areas." Wilma Schumann Purifying Astringent Pads ($25, wilmaschumann.com) pack in both acids and gently exfoliate the skin on the go.
Read more: How to Exfoliate for Smoother, Softer Skin