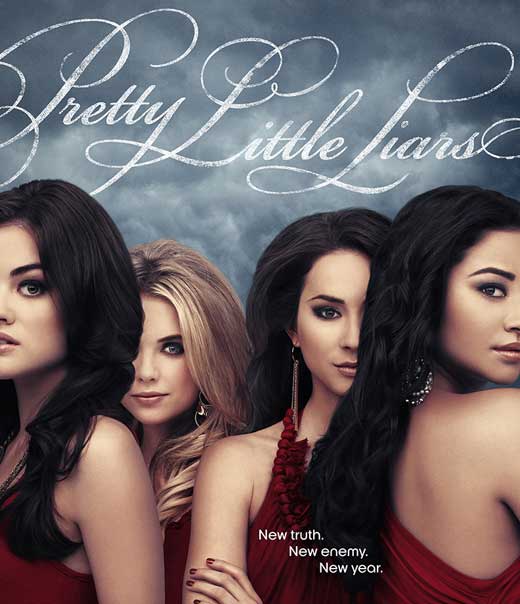 It would be more shocking to hear about a photo not being Photoshopped these days, but when we see the photo retouching go too far, we're a bit alarmed. Ashley Benson of "Pretty Little Liars" clearly shares this sentiment, taking to Instagram last night to speak out against the extreme photo retouching on one of the promotional posters for the show.
In her caption, Ashley wrote, "Saw this floating around….hope it's not the poster. Our faces in this were from 4 years ago…..and we all look ridiculous. Way too much photo shop. We all have flaws. No one looks like this. It's not attractive 🙈🙈." Taking things a step further, Ashley posted another image writing, "On another note. Super sick in bed :/ reading all of [your] tweets. Love you guys so much. The constant support and love I get from all of you makes me so happy. Hope you all are having an amazing week. Remember, you are ALL beautiful. Please don't ever try and look like the people you see in magazines or posters because it's fake. It only causes an unhealthy mind about how you see yourself. You are perfect the way you are."
MORE: Lucy Hale on Embracing Bold Brows and Her Favorite 'Pretty Little Liars' Episode
Shortly after posting that image, Ashley's co-star Troian Bellasario posted her own thoughts on the image, echoing Ashley's opinion. "Wow @itsashbenzo I couldn't agree more. Very cool concept as always. But aren't we attractive enough women as we are? Why can't we just look like us. Once," Troian wrote.
Whether or not this is the real poster for the show, we're glad that the girls who have become strong role models for girls are honest and open about their disapproval of photo retouching. Hopefully more actresses will follow in the footsteps of these "Pretty Little Liars."
Image via Instagram