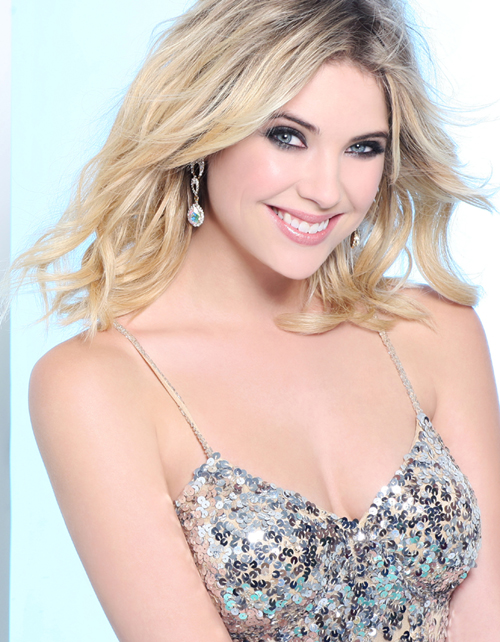 Ashley Benson has been quite the busy lady recently. Between premiering her new film "Spring Breakers," keeping "Pretty Little Liars" fans on their toes every week with new episodes, and guest starring on "How I Met Your Mother," it's no wonder the girl's become a sensation. Her latest gig as the face of Faviana, the dress company that every prom-goer will be hitting up soon, suits Ashley beautifully and is making us wish we could go to prom again. We caught up with the pop culture idol to get her take on beauty behind-the-scenes, her makeup must-haves and what she loves most about her nail art on set.
Beauty High: Have you picked up any beauty tips from working on set? 
Ashley Benson: I have! I've learned how to do my own eye makeup, I really didn't know how to do anything before. I still don't know how to do my own hair, to be honest. I have a lot of facial masks, all from the show. I usually do that in the morning, I'll do a cucumber mask to get anything that's puffy down, and to feel better. I've taken a lot of those, I always moisturize and I try to watch my face because I have so much makeup on all the time.
You've been on a crazy whirlwind press tour going from city to city. Have you figured out any essentials that you need to have with you in your bag?
I definitely need moisturizer on my face and Chapstick. I have these great eye patches, they're super cold, and they take all the puffiness away. Emergen-C is a must because I'm flying all the time, and you don't want to get sick. And hand sanitizer, so I don't get sick. I'm a hypochondriac, so I'm always [washing my hands].
What is your go to beauty look for either a night out or during the day?
During the day I don't wear makeup. When I go out, I love to wear smudgy eyeliner and bronzer, and blush and then Chanel makes a great lipstick called "Boy," which is a nude color. It's my favorite.
Is it just for "Pretty Little Liars," or do you have nail art regularly? 
I love to get my nails done. I usually get them done every week and I love to do crazy stuff. For the show, we do insane nails, so I'm always changing them every episode. It's been nice because when I'm not working on the show, I get to keep them for at least two weeks. Usually, I have to change them every week so it's been fun. Right now I have upside down hearts on my nails.
Courtesy Photo