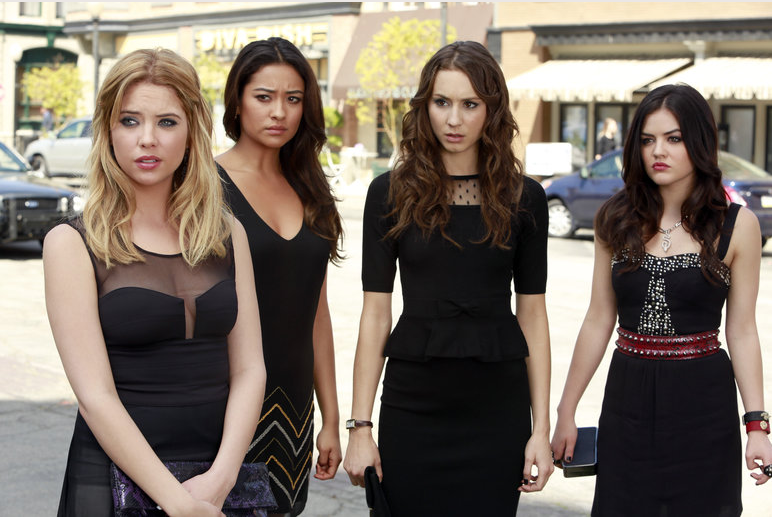 When a show nabs the record for Most Tweeted Season Premiere in TV History, attention must be paid. As if we needed another reason to be obsessed with Aria, Hanna, Spencer and Emily any more, the "Pretty Little Liars" Season Four premiere roped in more than three million viewers (including us), and besides just knowing what will happen next to the girls, fans everywhere want to know the secrets to looking like the "Liars." From their beyond gorgeous, voluminous waves to the braided hairstyles that instantly create envy, the girls of "Pretty Little Liars" have just about the best hair in the business. We caught up with Kim M. Ferry, the head hairstylist for the show (and nine year hairstylist veterean on NBC's "The Office") to get all of her inside tips, tricks and details about how Lucy Hale, Ashley Benson, Shay Mitchell and Troian Bellisario have nothing but good hair days on set. From hair extensions to hair chalking, Kim knows it all!
Beauty High: Each of the girls have perfect voluminous, sultry waves. What's the technique for getting this hairstyle? 
Kim M. Ferry: When I joined the show this season, I made sure I watched every episode of the first three seasons. I saw immediately why wardrobe and makeup on the show were creating excitement and inspiration for the fans. The PLL's looked simply amazing. Their makeup was flawless and if I was going to join this talent, I would have to aim to do the same with the Hair Department. Season 4 finds our PLL's with longer, flowing hair. We are embracing and designing the "beach wave" look for a softer, more carefree style. We still maintain the youthful feel by letting hair hang around their faces and drift past their shoulders. By using one inch wide hot curling irons, we wrap two inch hair sections vertically around the barrel, hold for 4-5 seconds and then let the hair fall into place to cool in a hanging position. This angle helps to give the effect that they walked out of the ocean and let their hair dry in the sun. The girls' characters have been through a lot in Season Four. "A" is really wearing them all down, so we're trying to keep that in mind, reflecting that in the "on camera" hairstyles you will see. But don't worry – they will still style! To help replace any moisture lost during the process, I like to use Natural Essentials Healing Dry Oil to help nourish dry, damaged ends.
Do you use hair extensions for the show? For fans who want extensions, what are some do's and dont's when getting them? 
I do use extensions for the show, and have used extensions for every show I have worked on. My favorite is actually something fans could make themselves. They are "pop-in" wefts. I buy human hair wefts (they come in many natural and bold colors) – many wig stores have them or you can order online – I hand sew "toupee clips" onto the top of the wefts. Some wefts come with the toupee clips sewn in. I use 2-3 wefts per head. And if you have a part from mid-ear to mid-ear, then tease the hair at the part, and just pop in the weft. Make another part 2 inches higher and tease, then pop in weft. Bam! Instant fullness and length. Have your hairstylist cut it to the right length for you. YouTube videos are great for learning how to apply wefts, too.
When Ashley Benson cut her long hair, was it Ashley's decision or was it to give her character Hanna an edgier feel? 
Ashley wanted to change her hair into a shorter, more versatile look. Her current length looks really great on her, the hair just passes her shoulders, and gives us more layers to play with. It's beautiful, but then again, she would look good in anything!
What's the process like when you're coming up with hairstyles for each character? 
Most of the girls that I work with have or want long hair. It's so versatile – you can braid it twist it, tease it and make lovely California beach waves. Color is a big part too. I am taking into account trends, such as lightening the ends of the hair. Slight highlights (only on the tips) can make a great illusion of summer highlights. I like to experiment! Hair chalk is another fun way to try out bold colors without the commitment of a permanent hair color.
There are a ton of fun braided hairstyles on the show – what are the keys to getting the perfect braid when you're doing it yourself? 
Braids are quickly becoming a sumer staple for long haired women. Not only does it stay in place in humid temperatures, it is an easy style to DIY. YouTube is a great way to learn! I've been a stylist for decades now, and I keep learning new ways to do hair from it. Pick up a good tail comb, I really like bone combs, they're great for parting hair. Be sure to use a weightless, protective layer (that doesn't leave film on the fingers after use!) to help keep the braid in place. That's what I love most about dry oil, like the Natural Essentials Strengthening Dry Oil, it doesn't weigh hair down, leaving it flat or greasy looking like other oils.
How does the hair on "Pretty Little Liars" differ from shows you've worked on in the past? 
It's very different. I was on "The Office" for the last nine years. For the character Angela, we experimented and I created a braided headband for her, out of her own hair. On "Bunheads," I've used wire and wire cutters to create fun looks for special dance numbers for the ballet shows the cast would perform. Now, on "Pretty Little Liars," I am focused on interesting, glamorous yet functional looks for our leading ladies. I want to create hair that will inspire fans to want their hair to look like our PLL's. Discovering new styles and keeping in step with fashion is a fun challenge.
What's your favorite hairstyle to create for the show? 
I am really loving the beach waves we have going on right now. But, we have had a few fun episodes that let our creativity flow! Watch this season to find out what those challenges were. My hair team and I have a great time trying different styles and determining what look works best for what we are filming in that episode, but every style needs to be done with time considerations in mind. We have to work fast to keep the set moving along!
Are there any major hair changes we can look forward to in the new season (like a cut or color change)?
Any new changes? Oh, that's a secret….and if I tell, "A" will get mad at me.
Image via ABC Family
More Pretty Little Liars on Beauty High:
"Pretty Little Liars" Backstage Makeup Tips
"Pretty Little Liars" Star Ashley Benson on Her Nail Art Obsession, Must-Have Lipsticks, More
Lucy Hale Announced New Face of Mark Cosmetics