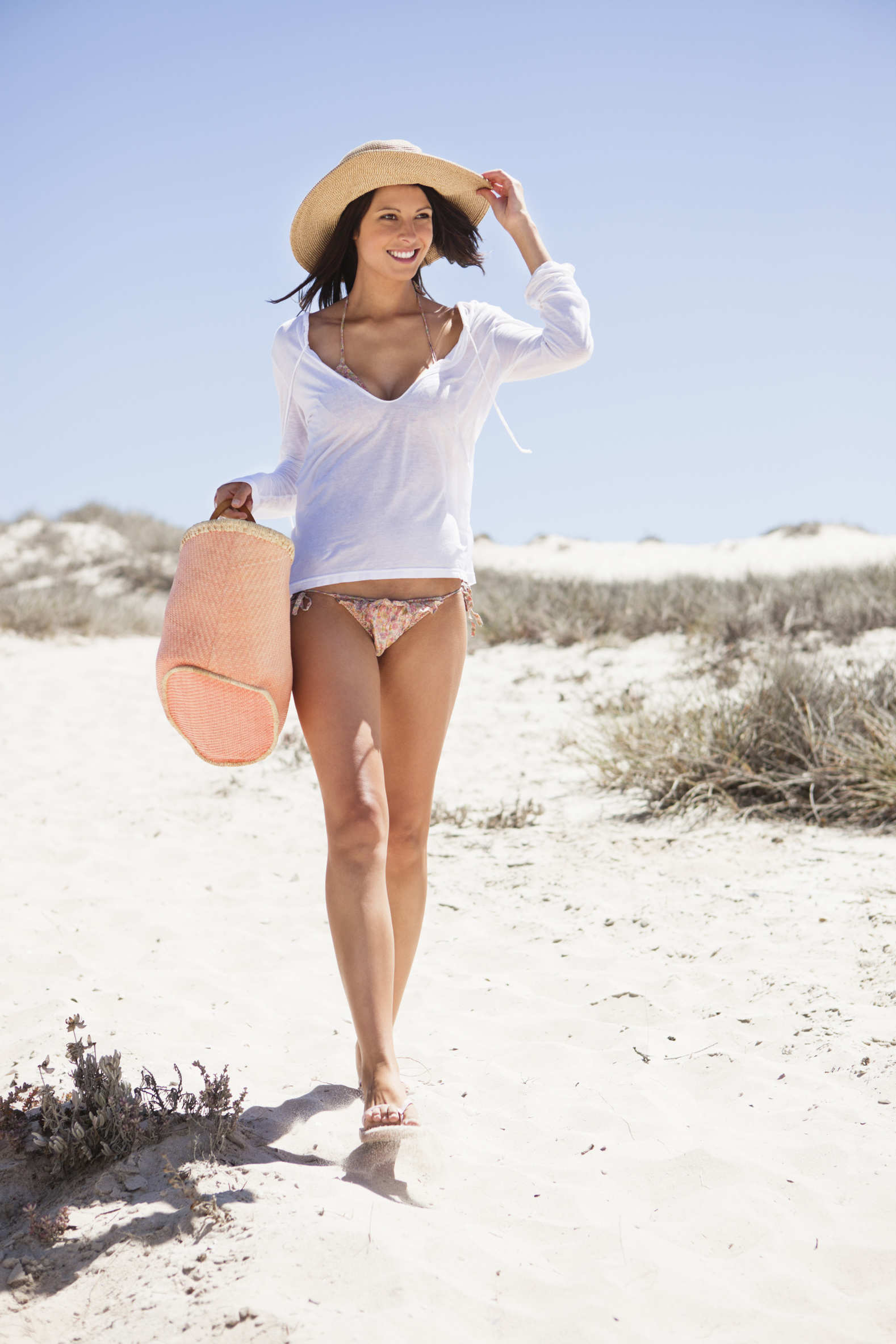 It's finally beach time. Hooray! I'm doing a full head-to-toe overhaul to get ready for all the fun in the sun, and you should too. The goal is not to be perfect, but to be healthier and feel more energetic when enjoying the hotter months, so give my routine a try and see if it works for you.
I like to begin from the inside out when prepping for my vacation time, so the first thing I do is make sure I'm drinking 8-10 full glasses of water each day. The only other thing I'll drink is coffee or tea (no sugar or milk), and of course I drink my wine or prosecco with dinner – a girl's gotta live, right? I take anti-oxidant vitamins and plenty of B12 to keep my skin looking good and my energy up. I also take dandelion, a natural diuretic that flushes out excess water weight.
I eat super clean when gearing up to show more skin, so my summer prep diet goes like this: Breakfast is an egg white omelet with veggies or Greek yogurt with fresh berries and raw nuts; lunchtime is usually a grilled salmon salad or kale salad with roasted chicken; dinner consists of Japanese food like sashimi, seaweed salad and maybe one sushi roll with brown rice or sometimes a lean steak with Swiss chard. If I get peckish during the day, a Greens or Kind Bar or some hummus on a rice cake does the trick to kill the snacking.
I try for four to five days of working out, which includes doing 45 minutes of cardio, like speed walking (I'm not a runner) or the elliptical and one hour of weight training with a trainer. If you can't get a trainer, then grab a Self Magazine and follow along their workouts, which always seem to focus on beach body toning.
Now after a long hard winter I'm usually super pale, so I bust out my self-tanner and give myself a little glow. I start in the shower where I buff my face and body with white sugar to exfoliate all the dry and dead winter skin off. When I get out I smooth on self tanner for face and body. I make sure and moisturize my body really well each day to ensure soft and supple skin and slather on a high SPF each day, so I never get burned and stay protected from nasty aging UV rays. I like to get my hair trimmed so it looks healthier and is ready for all the salt water and chlorine damage I may do to it over the course of the summer, and I like to smooth on a little argan oil on the ends to keep them from splitting.
I don't like wearing a ton of makeup in the summer, so I make sure my brows are perfectly groomed and then book an appointment at a beauty salon to get my eyelashes tinted. They use vegetable dye, so it is safe and by tinting them black I can skip mascara on busy days and still feel like my eyes are nicely framed. Nothing beats a whiter brighter smile with a tan, so Crest White Strips ($34.99, drugstore.com) are my go-to for keeping teeth gleaming. I throw them on about 30 minutes each day to get the best results.
Lastly, I stock my beach bag with must-haves: a brand new sarong, hat, bright lip color, good book and sunglasses. So ladies, let me know how this pre-summer beach beauty prep routine works out for you!