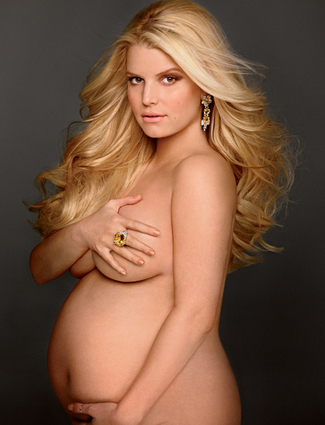 Photo: Elle
Jessica Simpson recently posed nude for Elle magazine and announced the gender of her baby, as well as revealed details of the baby's name.
In the April issue of Elle magazine, the singer-turned-designer confirmed that she and fiancé Eric Johnson are having a girl and will be joining countless other celebs by using a nontraditional name.
"It's nothing shocking and nothing you'll have to add to the dictionary," she told Elle. "Still, when people hear it, they'll know…why." She has assured fans the child will not be named "chicken of the sea."
Taylor Swift Wears Kayne West Top for Harper's Bazaar
Jessica hopes a little fashionista is on the way. "Ah swear, ah will croak if she asks me for a pair of Nikes instead of Christian Louboutins! Eric is so athletic. We're gonna have this athletic girl and I won't even be able to take her shopping."
What do you think of Jessica's cover shoot? Is it in bad taste or are we embracing the beauty of (photoshopped) pregnancy?