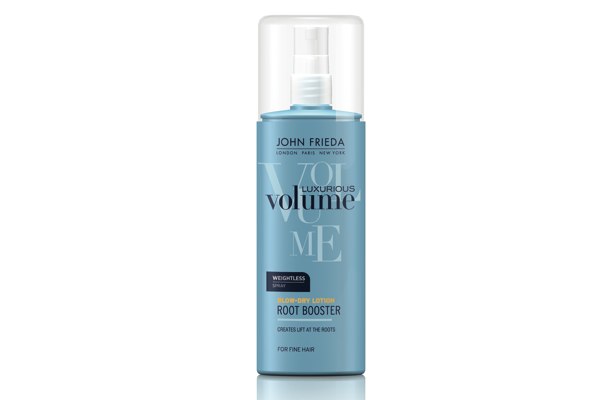 A few years ago I transitioned from mousse to root booster as my hair-lifting go-to, as it seemed like a miraculous, multifunctional volumizer that was at once quick, mess-free, and targeted at the area that needed the most help. Upon further examination, however, I came to realize that besides just spritzing the stuff into your head, there's other tools and tricks you can do to make the most of the product. Harry Josh, John Frieda International Creative Consultant, shared a few easy steps to achieve sexy volume with a root booster.
Work it in While Wet: "You should apply it (root booster) to towel dried hair, spraying directly onto your roots, and make sure that they are fully saturated," recommends Josh. "An easy way to do this is to hold your hair up in sections while spraying to ensure you spray both the under section as well as the surface."  Leaving a great, fine-tooth comb on hand in the shower or on your dresser to separate your hair into sections will help to simplify the process.
Build Volume As You Dry: "Simply blow dry your hair with a medium round brush." If you have bangs, dry them first with a flat brush, then work the rest of your tresses with the round brush.
Utilize Your Digits: "For really great body and lift, target your roots when blow drying by lifting them with your fingers." There's nothing that works better at tousling your locks while massaging, and locking in product than your hands!
Not all products are created equal: "When you want volume, the right product makes all the difference," Josh advises, "The  John Frieda's Luxurious Volume Blow-Dry Lotion Root Booster gives you noticeably thicker hair while building fullness at your roots." Read product reviews to determine how light or heavy the product may be for different hair types, and look at the list of ingredients to find out if the item contains alcohol, which can dry out your hair with every day use.