Have you ever skipped the gym to preserve your perfect blowout? Whether you don't want to shampoo every day (because it strips hair of its natural oils) or just don't have the time, your hair shouldn't be a deterrent to getting in shape for the upcoming bikini season. We spoke with Oribe Educator Ashley Brecken of Salon Marc Harris in Boston for tips on how to hit the gym and have good hair afterward.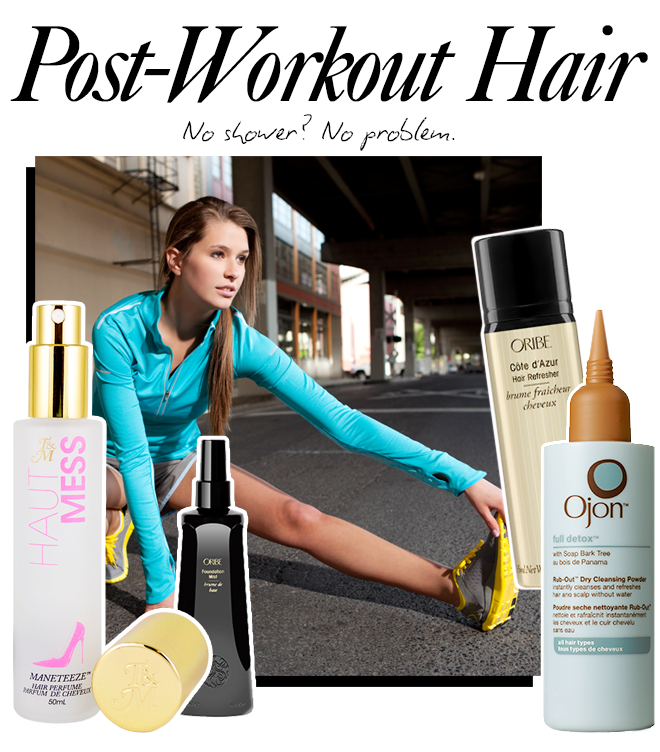 Skip The Ponytail Elastic
"First, you want your hair up off your back and off your face," says Ashley. Obviously, the less sweat on your strands, the better. But instead of reaching for an elastic, she suggests using a chignon hair pin to avoid leaving a dent in your strands."Twist your hair up into a bun and place the pin in on the side, gripping some of your hair and securing it in place." This will also create a soft wave so your hair won't look so flat post-workout.
Dry Off Strands
The most obvious solution to eliminating sweat at the hairline is with dry shampoo, such as Ojon Full Detox Rub-Out Dry Cleansing Powder ($24, ojon.com). Formulated with Soap Bark Tree Extract, it absorbs oil and any other residue on the scalp without stripping hair or turning strands white. To condition and detangle, use Oribe Foundation Mist ($23, oribe.com) at the root, which will re-wet and reactivate any product already in hair. "Weighing less than water, this product lays soft on your hair shaft," Ashley explains. The last thing you want after working out is to pile on a ton of products and weigh hair down.
Pump Up Strands
If you do need a little lift, try Oribe Volumista Mist for Volume ($38) at the roots. "The copolymer resins create volume and also provide a humidity-resistant hold (and after sweating, frizz can become an issue). Use a boar bristle round brush and your blow dryer to re-dry your root area, over-directing forward, to give you lift."
Eliminate Odor
Apply a fragrance to hair to mask any unwanted odors. Mane Teeze has a line of hair perfumes ($34, maneteeze.com) whose formula is gentler than normal perfumes but more concentrated so the aroma lasts longer. The collection includes three scents — a vanilla coconut, a chocolate caramel and grape amber.
Racing out the door? Just spray Oribe Côte d'Azur Hair Refresher ($22). "This signature fragrance neutralizes any odor and refreshes your hair, leaving it static free and smelling beautiful." Formulated with aloe leaf extract and amber extract, the spray also hydrates, smooths and conditions. A gym bag lifesaver.