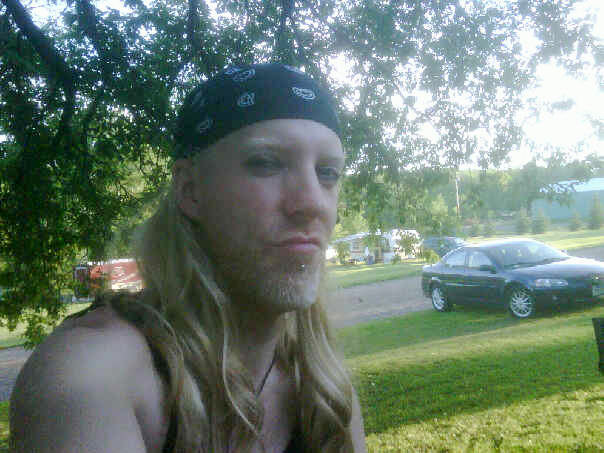 Me rocking my best Bret Michaels hair
at the 80's birthday bash.
For the longest time I have thought it is crazy to color a kid's hair. Over the years I have seen mom's bringing their tween-aged daughters in to get some highlights to make them more blond or had them ask about putting "sun-in" through their child's hair at the beach. My response has always been the same – don't color your kids' hair, they have their whole life to worry about their hair color. Honestly, I also was a little judgmental in thinking the parent was sending a message to the kid that they aren't pretty enough the way they look and they need to change it.
Now, I'm wondering if I was harsh in my judgments. If you saw my post a while back about my nephew Brady and his highlights, you know I have colored a kid's hair – and he LOVES it, so do all of his friends. Well, I just returned from Minnesota for a family visit (and an 80's-themed, camping, 40th birthday party – yes it was SUPER FUN!) and my niece Sydney told me she wanted to color her hair. She is seven. She asked for "red stripes." After asking her mom (my sister) for approval, we decided to go ahead and do it.
I think what I learned is that playing with hair color (at least for my niece and nephew) isn't about changing them or sending a message about what will make them better looking, it is all about letting them be creative and expressive. It was a blast!!! I love the results and so do they. Take a look at the video and LMK what you think!