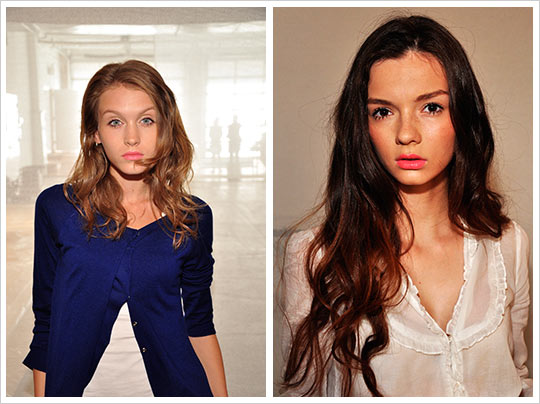 The final look
Photo: Nathan Bush
Piecey, textured hair and pops of coral created the perfect complement to Chris Benz's colorful and sporty collection.
Lancme lead makeup artist Daniel Martin centered his makeup look around a vibrant pinky-coral lip, leaving the skin and rest of the face as a "luminous canvas" to play up the brightness of the color. He started off by applying Gnifique Youth Activating Concentrate and Gnifique eye cream (on counter next month) to models' skin to pump up luminousity, then layered Secret De Vie over it to moisturize. Martin used a new product for spring, Pop N Cheeks palette in Coral Flirt on the cheeks.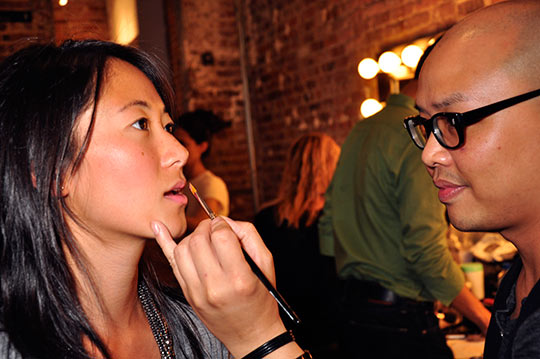 Lancme lead makeup artist Daniel Martin
Photo: Nathan Bush
On the eyes he first applied another new product for spring, Flash Retouche luminizer (a shimmery neutral brightener), on the lid, then crushed up Color Design Sensational Effects Eye Shadow in Honeymoon all over the lid, on the browbone, on the bridge of the nose and on the highest part of the cheek to add to that luminous skin look. "Crushing it up gives it more of a glittery look," said Martin. "As a whole it looks more frosted, which wasn't what I was going for with this look." He finished off the eyes by adding lots of Hypnse mascara for a clumpy lash look.
The lips were the focal point of the face, with Martin using the brand's latest addition to their designer-collaborated, extremely limited-edition Pout–Porter lipstick collection. The Chris and Tell shade, which will be available in the spring, is a bright and creamy pinky coral color. Martin cancelled out model's natural lip color with a stick foundation, then used his finger to push the color into the lip. "We wanted this to look very DIY," he says, "and using a lip brush would make it too perfect. Everything in this look is a just a little bit off."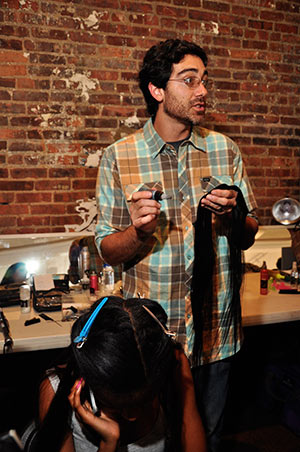 Redken lead stylist John Ruidant
Photo: Nathan Bush
Redken lead stylist John Ruidant focused on the sportiness and textured aspect of the collection, creating a hair look that was all about a mix of textures. He started out by blow drying sections of hair and running Fabricate 03 Heat-Active Texturizer through hair with his fingers. "The key to this look is not using a brush," he says. "You want to keep that messy, natural pieciness."
Once hair was good and dry, Ruidant sprayed in Hot Sets 22 Thermal Setting Mist onto hair, then used a 1 1/4-inch curling iron to curl hair, "but not in a neat way." Instead of smoothing out the hair so it wrapped tightly and smoothly around the barrel, Ruidant grabbed each section and wrapped it loosely and not altogether evenly around the barrel so that not each curl was uniformly the same. He used his fingers to shape the hair when he was finished in order to maintain the texture.