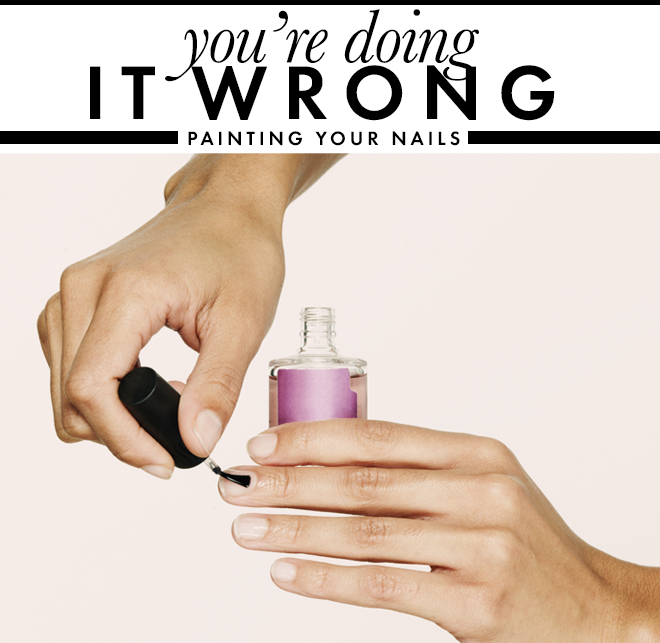 We've bought all the best tools and created a plentiful collection of our favorite polishes, all in the name of recreating a salon-quality manicure in the comfort of our own home. Still, without fail, we never get the same results—and it never lasts quite as long as it does when we head to the professionals. As it turns out, there's a good chance we're doing it wrong by making these critical mistakes.
Not cleansing the nail properly …
"You must cleanse the nail plate prior to applying nail polish," says Shannon Chomanczuk, nail artist and owner of A Polished Image. Cleansing the nail plate aids in the adhesion of the polish, which makes it last longer. "In my salon, I use pure acetone polish remover on a nail polish remover pad. After filing nails into the desired shape, I apply acetone to the polish remover pad and wipe each nail to remove surface oils," Chomanczuk says.
Not using a base coat …
Base coat is formulated to help the polish go on smoother and last longer, so skipping this step is a huge mistake that affects the longevity of your manicure. After cleansing the nails, apply one coat of base coat to each nail and allow to dry, says Chomanczuk.
Applying your polish too thick …
When you apply layer after thick layer of nail polish, you create a mound of nail polish on top of your nails that not only looks unsightly but also results in a polish job that's more likely to chip and dent, Chomanczuk says. When applying your nail polish, be sure to use a bottle that has not started to clump or thicken. Roll the bottle between your palms to warm, and then apply two thin coats allowing each layer to dry.
Not staying off the surrounding skin …
When you get polish on the skin surrounding your nails, the polish is more likely to chip. The easiest way to paint your nails at home is to hold onto a small ball, like a tennis ball, to keep nails exposed. If you do get polish on the skin, a small brush or orangewood stick dipped in acetone or top coat will remove the mess quickly and easily, Chomanczuk says.
Not using top coat every few days (or at all) …
Top coat is the icing on the manicure cake—it helps the polish last longer, resist chipping, and stay shiny. Chomanczuk recommends applying a single coat of top coat every two or three days to extend the life of your manicure. "The additional layers of top coat will help extend your manicure and keep it looking beautiful and shiny," she says.
Not using cuticle oil …
Your nails are made from keratin, the same stuff that your hair is made of—and just as you condition your hair to keep it from drying out, your nails need conditioner, too. Chomanczuk recommends applying a good-quality cuticle oil two or three times a day, more in the winter months. Whether you have artificial nails, polished nails, or natural nails, everyone can use cuticle oil. It will help extend the life of your manicure by preventing your nails from drying out and becoming brittle, which results in peeling polish. Cuticle oil will also help with pesky hangnails and cracks in the skin around your nails.
Read more: 11 Things Your Nails Are Trying to Tell You About Your Health