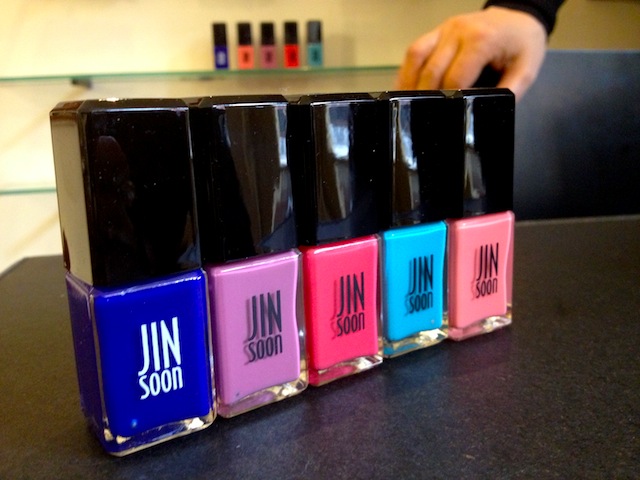 Ah, springtime: a time when our thoughts turn to cute dresses, warmer temperatures and the beauty rituals that will keep us looking super cute during the season, particularly manicures and pedicures. While Old Man Winter continues to blow through the country, we're already planning our prettiest mani-pedi combinations, thanks to this amazing new collection of nail lacquers by celebrity manicurist and nail expert, Jin Soon Choi.
Her new spring collection, called A La Mode, is inspired by the beauty of the colors in the New York botanical gardens and features hues that are a mix of petal soft and hues that burst with floral vitality. True to her runway roots, Jin Soon collaborated on this newest collection with some of her favorite top runway models, with each hue named by a catwalk stunner and her favorite botanical garden flower. There are five polishes in the collection: Blue Iris (named by Saskia de Brauw, an electrifying blue); Poppy Blue (named by Tati Cotilar, a sweet, sky blue); French Lilac (named by Meghan Collison, a lovely lavender-pink); Coral Peony (named by Vanessa Axente, a vibrant pink); and Tea Rose (given its name by Fei Fei Sun, a delicate pink.)
Each shade retails for $18, has fantastic staying power and a high-gloss formulation, and will last you an entire spring and summer of fun in the sun. The collection is available now at Space NK so, trust us, we're already way ahead in getting our hands on this amazing polish collection. After all, she had us at models and flowers. Color us officially obsessed.