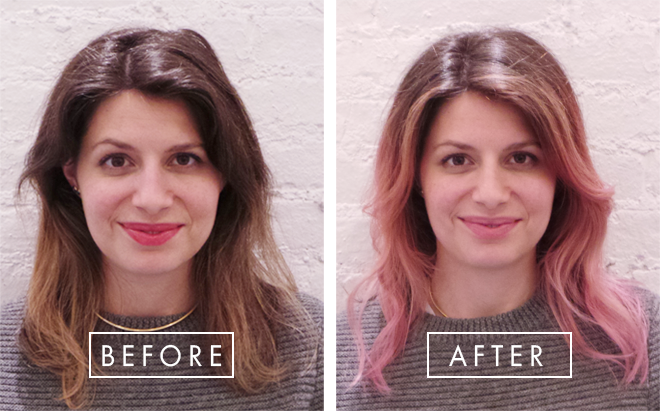 After a successful 2013, our brave Editor in Chief Laurel Pinson rewarded us with the ultimate gift: She let us choose her next hair color. Once we decided pink ombré was in order, we took Laurel to Bumble and Bumble Colorist Zoe Wiepert and hairstylist Carrie Hill. Read Laurel's first-hand account of going pink.
I feel I should start by saying that I've never really done anything that crazy to my hair. When it comes to experimentation, I definitely favor fashion over beauty. Sure, I've been highlighting my hair since I was in my late teens, and did the whole "My So-Called Life" box dye job at 14, but I never got bangs, never chopped it all off, never went super-dark—you get the gist. For the past few years, I've had a pretty subtle ombré.
All that said, the fantasy hair and beauty looks that I rip out of magazines and pin to my Pinterest boards are rarely brunette. They've got white-blonde hair with dark brows, pale lavender braids, chunky blonde streaks—that sort of thing.
While the office's color vote at times teetered between rainbow and a sea green, I'll admit I was pretty thrilled that the consensus landed on pink. To me, pink is actually kind of punk. In the fashion world, this jolt of electric pink started showing up in winter coats and jackets last season—I bought a pink wool Carven miniskirt that I adore—that felt decidedly fresh, and not exactly ladylike, per se. Pink hair makes me think of Frenchie in Grease, or Gwen Stefani, or a mischievous Mozart at a raunchy party in "Amadeus."
So here's what I learned from dyeing my hair pink:
You have to bleach your hair first, and the process takes four hours.
For those thinking about going pastel, a critical thing to understand is that you have to bleach you hair first—and while the pastel color may fade, bleaching your hair is (very) permanent. I happened to have blonde ombre tips, so really, it was just a matter of bringing the blonde color up my hair, and making the ends super-blonde. The process took nearly four hours, including styling, so don't plan on doing this on your lunch break.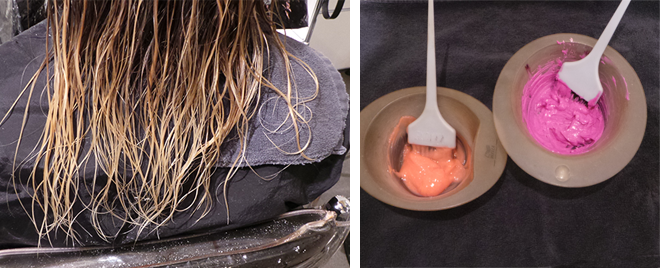 The end result actually had a couple of different shades of pink, mixed with blonde, which not only looked cool, but also helped the color transition well as it faded over the next couple of weeks.
I may have been anxious before the color went on, but I won't lie: I liked the pink as soon as it hit my hair. It wasn't like a new haircut where you're a little scared at first, and then you adapt to it. I felt like a million bucks—and about 10 years younger.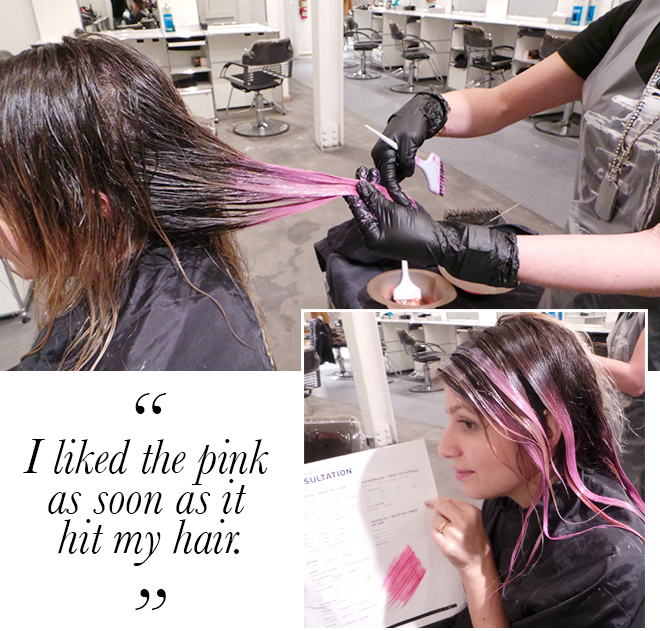 When our beauty director called the color "subtle," I wasn't sure I agreed—she's dyed her hair lavender and platinum within the past year—but when my husband insisted it was less drastic than he'd expected, I was convinced I still looked like me. Just, you know, a pinker version of me.
Prepare to talk to a lot of people.
If you want to know what it takes to get any man to notice a change you've made in your hair, try dyeing it pink. You'll get a reaction fast. My neighborhood baristas, the bartender at the restaurant on the corner … Everyone wanted to talk about my hair. Even the guy who runs security for our building noticed when I showed up the morning after my dye job with bright pink ends. "You changed your hair," he said casually—as though it was our little secret. He leaned over the counter. "I like it!"
This pink hair was like the cool factor I never knew I had. Look at me, world, I'm living large! It was like wearing the world's cheeriest fascinator—an instant conversation starter among strangers and also people who didn't remember your name (a huge bonus around industry events like New York Fashion Week).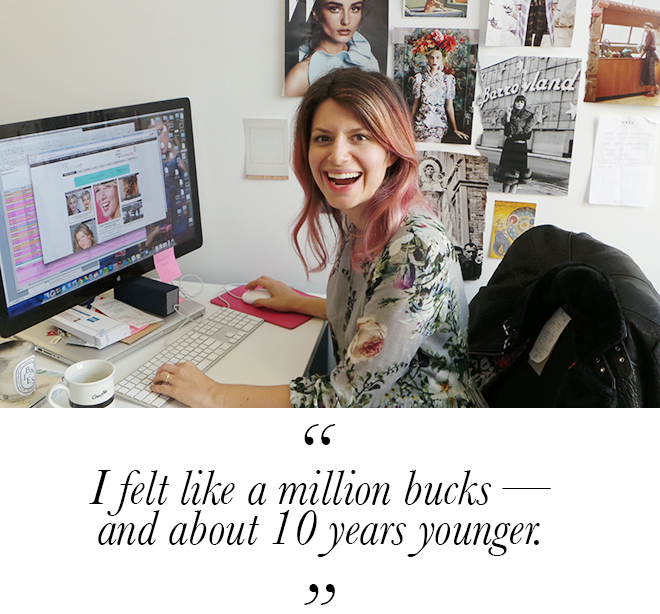 Everyone will want to touch your hair.
After starting a conversation about your hair, the first thing everyone will want to do is touch it. To be fair, it looks like cotton candy, or possibly painted-on, so it makes sense that people will expect the texture to be coarse or extra-fluffy. After they touch your hair, there is a 100% chance that they will say, "Oh, it's really soft."
You'll probably have to get new makeup.
Fashion was a little tricky—I'm a big fan of bold prints, which can look a little overwhelming next to new pink hair—but I quickly sorted through what colors would work best (and, frankly, by the second week was already feeling more confident with contrasting colors). It was  the makeup that was the real challenge. As an ombre brunette, I'd been a basic-mascara-and-a-bold-red-lip person for more than a year and struggled to find a single lip color in my arsenal that would match pink. A smoky eye and a neutral lip felt way too "done," so I ended up spending an hour at Sephora the day after the makeover and grabbing two lip colors from Nars: Dolce Vita ($26, narscosmetics.com), a dusty-pink that was just enough color to pop in the winter, and 413 BLKR ($26, narscosmetics.com), a deep rose-brown that added a moody twist to the pink hair.
The color fades a lot quicker than you'd think.
A lot of my friends have gone red and later regretted it—it's one of the hardest colors to get right, sometimes, and can often linger in your hair long after you think it's faded. This pink, on the other hand, faded faster than Britney Spears' first marriage.  To be fair, the colorist warned me as much, and I bet folks who are addicted to bright colors treat their hair color like a pair of dark jeans: wash them as little as you possibly can, and don't expect them to look good until they've worn in a little.
I waited as long as I possibly could before washing it the first time. (Side note: I started using Bumble & Bumble's Prêt-à-Powder ($26, bumbleandbumble.com), and it's awesome for gals like me who hate having to wash their hair.) By the second wash—a little more than a week after I'd initially dyed it—I was left with a pale, dusty pink. I'll confess that my fading color made me a little anxious: Would I still be cool without pink hair?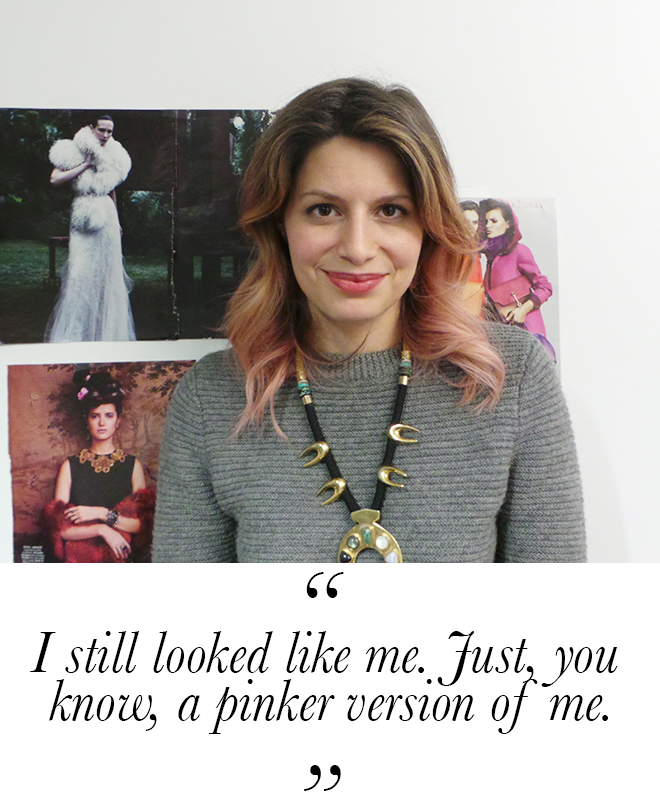 Everyone secretly wants to be a pink lady—and they should try it!
Sure, I expect a lot of the 20-somethings I know to think a pink 'do is fun, but what surprised me most was the reaction from other 30-something friends who are also relatively conservative with their hair.
"I love your hair," pals wrote me. "I so wish I could do something like that!"
Well, why can't you? Sure, it's more dramatic than, say, trying a bold lipstick (side note: I have no tolerance for people who "wish they could wear bold lipstick," but don't—it's just about finding the right color!). Sure, maybe if you work in a law firm or a bank, I can see how your boss might not react too kindly to you going pink. Otherwise, stop making excuses for why you can't have a good old fashioned adventure with your hair. The stuff grows back! What do you really have to lose?
In fact, I'm already thinking of what crazy thing I might do next—maybe lavender? Maybe platinum with super-dark roots?