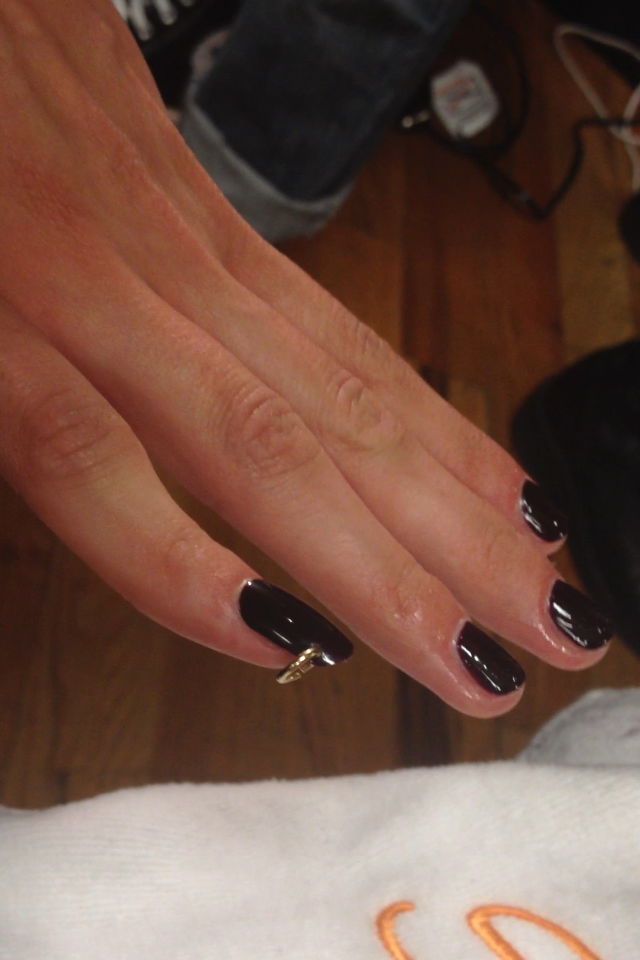 While backstage at Fenton Fallon, the designer to hold the first ever jewelry runway show, we noticed that the designer's aesthetic had trickled all the way down to the nails. Manicurist TracyLee for Sally Hansen got creative with the tips, piercing one accent nail on each hand and putting a small metal ring (like you'd buy at a jewelry supply store) through the hole.
This wasn't the first time during fashion week that we've seen this look. Backstage at Emerson, nail artist Miss Pop pierced nails with tiny safety pins. While this may not be the most practical manicure in the world, we're pretty excited about the potential for nail jewelry during our next big night out.
If you're not quite on the pierced nail bandwagon yet but still want nail art, we have some good news for you. Later this year, Sally Hansen will be releasing a nail art tool kit complete with a striper, dotting tool and a detail brush, plus a sheet of art stencils that can be used to create multiple looks. The kit, along with the brand's newest I Heart Nail Art kits, will be sold for less than $6.
Still curious about the nails at Fenton Fallon? Take a look at the video below for details!
More From Beauty High:
How to DIY Charlotte Ronson's Polka Dot Manicure At Home
Steal the Purple Winged Liner Look From the Spring 2014 Runway
All the Details on the Foil, Pom-Pom Nails at Libertine Spring 2014