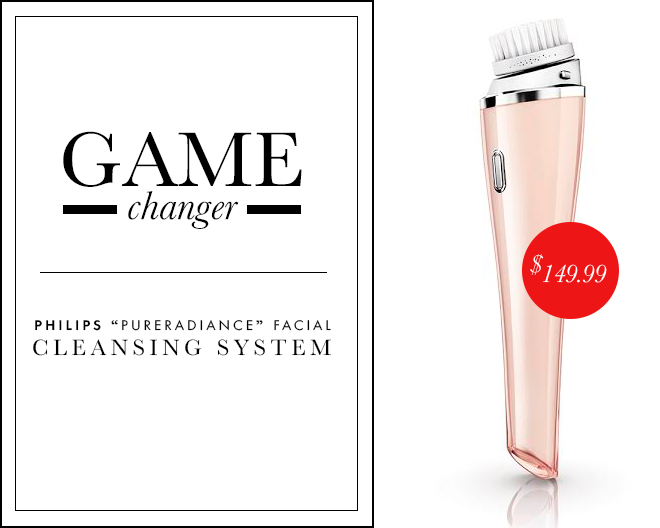 In our series, Game Changer, we're highlighting products that are so good, they are having a significant effect on our beauty routines.
Maybe it's because of my line of work, but I admit: I was once addicted to the Clarisonic. Never does your face feel so clean after a good polish using a cleansing brush. But unless your skin is oil-prone, it's not gentle enough to use daily—and I was using it twice daily on dry sensitive skin.
For weekly exfoliation, the Clarisonic is your man. For twice daily cleansing and light exfoliation, Philips PureRadiance Facial Cleansing System ($149.99, usa.philips.com) is the new go-to. The brush bristles are so soft they can even be used to remove eye makeup and stimulate blood flow underneath the eyes; camouflaging tired eyes has never been easier. The system's dual-motion technology—it pulses and rotates in circles—helps to break up dirt and dead skin cells while sweeping it away from the face simultaneously.
Moving from the center of the face to the hairline improves lymphatic flow, brightening the skin and preventing breakouts. Celebrity aesthetician Joanna Vargas, who introduced the system to me in a facial appointment, encourages her clients to give themselves a "lymphatic facial massage every day to help the body get rid of waste and circulate the important nutrients your skin needs to look healthy and glowing."
The system has a timer similar to the Clarisonic, but unlike the Clarisonic, it pulses every 20 seconds. This gives you one minute to reach the three key areas of the face—avoiding over-cleansing any one area.
After just a week of use, my skin was smoother, brighter, and even with the increase in exfoliation, more hydrated than ever.
Read more: You're Doing It Wrong: Exfoliating