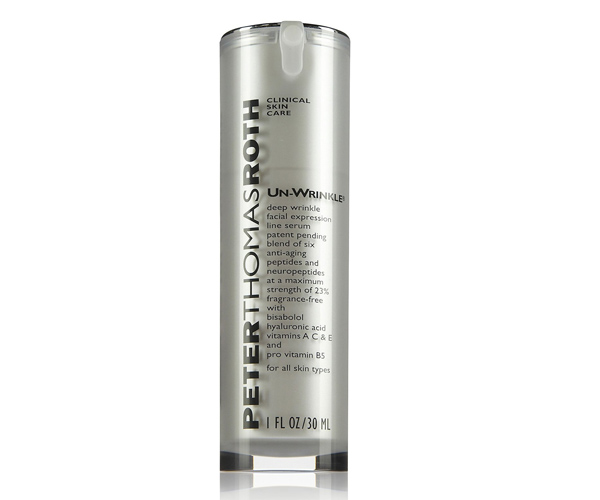 At Beauty High we constantly have new products crossing our desks and are always on the hunt for the next best thing. "The One Thing" is our way of sharing with you that must-have product that you need to introduce to your lives right now, whether it's from a drugstore or a department store. Bonus: This week, our resident skin care guru (and graphic designer) stumbled upon this new anti-aging gem and raved and raved – trust us, when it comes to anti-aging, we take things seriously.

There's more than a plethora of products on the market that promise younger looking skin, diminished fine lines and wrinkles, and an array of other skin enhancements with the continuous use of whatever that product may be. Of course the more you use them, the more you'll see a result of some sort (at least, that's what we hope). Throughout my life, I've always been heavily involved in the care of my skin from a rather young age, and now in my late 20's, it's definitely no different, except now I've just upgraded that over the counter $12 moisturizer to a much pricier department store brand. And the proof is in the pudding, especially with skin care. You get what you pay for.
Speaking of "pay for", it's no wonder that the newest phenomenon by Peter Thomas Roth comes with a hefty price tag at $120, but before you cringe at the thought of breaking the bank for "just a cream", continue to read the following and take notes! The Peter Thomas Roth Un-Wrinkle Serum is a whole lot of goodness perfectly packaged in a cute cylinder with diamonds and snail shells printed on it. "Huh?" you ask. Well, listen up! This skin savior promises to deliver results in 3 days time, which is a record for any product I've ever used on my face. It contains a potent mix of ingredients such as synthetic snail venom, and genuine crushed diamond dust. Yes, diamonds.
MORE: Boscia's Pore Purifying Black Strips
If you're not convinced yet, then try this on for size. Once applied on the skin, the serum acts as a "needle free" treatment that targets even the most stubborn of lines, including those pesky laugh lines and forehead lines. The potency of the snail venom acts as a "relaxer" thus resulting in a smoother, wrinkle free complexion. Can we say instant gratification? Also packed with a strong anti-aging neuropeptide, this pricey yet very effective serum, is at the top of the list. It goes on smooth, dissipates quickly into the skin, and has a natural finish without leaving behind any type of residue.  Let's just say this is the gift that definitely keeps on giving. It's like a face lift (actually though) that works all day long to smooth out fine lines and wrinkles. The biggest plus of all is that it's great for all skin types, so anyone can use it. Dubious, this product is not. Three days time for visible results, who doesn't want that?
What Makes It Different:
•    Synthetic snail venom, neuropeptides, and genuine diamond dust help relax the areas of concern for smoother, younger looking skin.
•    Instant results in as little as 3 days.
•    Good for all skin types
Why it's The One Thing:
It's painless instant gratification that delivers strong and effective ingredients to help knock off a couple of years, leaving nothing behind but beautiful, smooth skin. Done, and done!