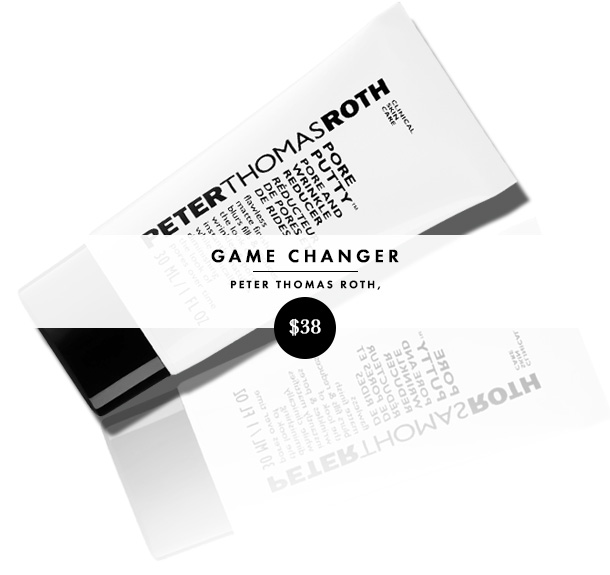 Don't even get me started on the subject of pores. I've been totally fixated on my own since, well, I first learned what "pores" actually were, and I've been picking and squeezing at them in magnifying mirrors ever since. Despite countless magazine articles and skin care products and primers and foundations and finishing powders that promise to shrink your pores, the bleak truth is that pores cannot be shrunk. They are the size that they are. This is their reality.
You can, however, use products that diminish the appearance of pores. This is a purely surface-level kind of deal: They'll make your pores look smaller, yes, but the effect is temporary. That said, there are tons of these sorts of products available on the market. Some work, some kind of work, most don't. They feel nice going on, and smooth the skin out a bit, but they really serve no actual purpose.
Peter Thomas Roth Pore Putty is an outlier of sorts. It's pitched not specifically as a primer but rather a multi-purpose treatment—you can wear it alone, wear it under your makeup, or pat it on gently as a final step in place of powder. As the term "putty" implies, it's meant to fill in open pores, fine lines, and deeper wrinkles, sort of glazing over your whole face to create an even surface. It's a lovely concept, to be sure, that goes above and beyond the standard "pore shrinker" offerings.
I'm generally reticent to try these kinds of products, as it's almost always a case of getting my hopes up just to be let down, but the efficacy of the Pore Putty was admittedly a pleasant surprise. It feels good going on, sort of powdery and not at all slick, and instantly mattifies while—yes!—really working to hide large pores and fill in wrinkles. The effect is blurring insofar as it leaves behind a natural, soft focus finish that, on a good skin day, renders foundation nearly superfluous.
Here's the other thing: Pore Putty touts a property called DisaPore20, which claims to provide long-term benefits that actually reduce the look of pores over time. The jury is still out on that one, but magical pore-shrinking putty or not, this stuff actually does what it says it's going to, and does a great job of it. My pores will be forever grateful.
Read more from Daily Makeover: The Best Products and Tools for Clogged Pores