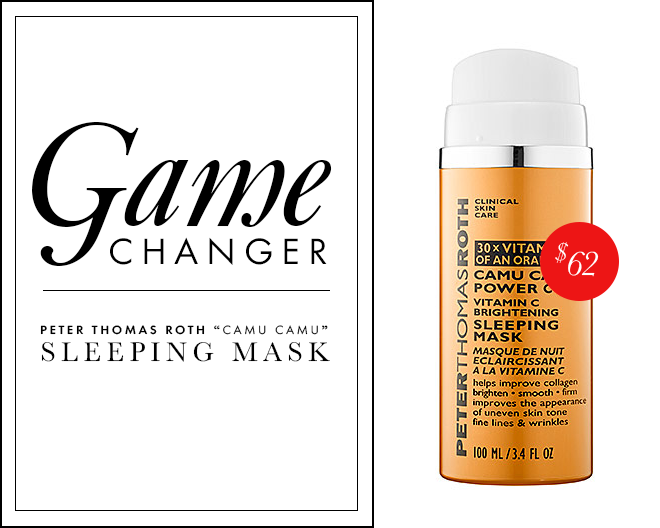 Occasionally we come across a product that bestows an immediate glow, changing our look (for the better!) in an instant. Since we'd be remiss to keep them to ourselves, we highlight these genius finds in our Instant Makeover series.
As card-carrying product fiends, we try out a lot of skin care around here. Cleansers, moisturizers, masks—you name it, we've tried hundreds of them. Even with those sorts of quantitative odds, it's rare that we get our hands on something that makes a noticeable, stop-you-in-your-tracks difference right away. Clearer skin or less dryness over time, sure, but after just one use of Peter Thomas Roth Camu Camu Power C x 30 Vitamin C Brightening Sleeping Mask ($62, sephora.com) the difference was, one might say, night and day.
The intensive overnight mask doesn't claim to work miracles, only to utilize its main component of camu camu berry, a superfruit packed with vitamin C, to brighten and moisturize skin while you catch up on your beauty sleep. After a single use of the treatment, we woke up the next morning to find our skin feeling soft and hydrated but not overly greasy. Dullness and uneven tone was banished, and stubborn breakouts (of the cystic variety, no less) were minimized and healed.
The product is recommended for use two to three times a week, but in the name of investigative research, we layered it on every night for one full week. The results? Clearer, brighter, moisturized skin, just as the bottle claims—and, as an added bonus, powerful blemish-fighting abilities that went above and beyond the brightening call of duty. Did someone say something about miracles?
Read more: Four Steps to Bright, Radiant Skin