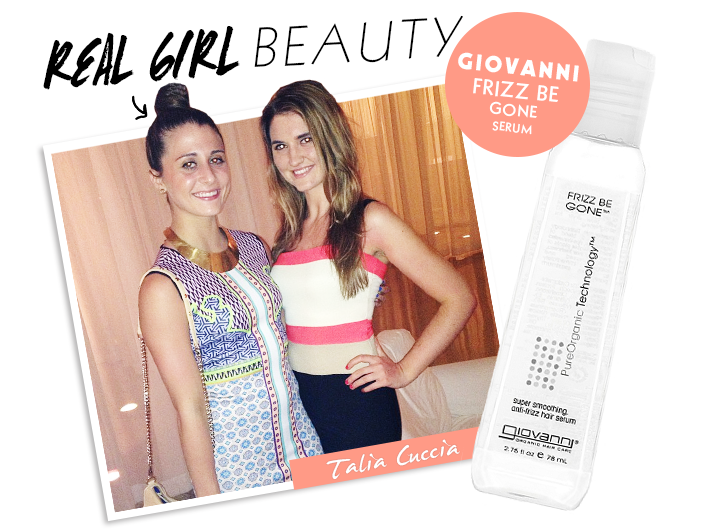 Going backstage and learning tips and tricks from the professionals may be an adventure, but sometimes, the best tricks come from real girls. In "Beauty and the Real Girl," we learn the best beauty tips, tricks and secrets from girls just like us.
Top knots are one of our favorite standby hairstyles. Whether it's a rainy day or a formal event, when you need a simple, classy look, few hairstyles work as well as this one. But, easy as it looks, we're not always able to get it perfect. Layers, frizz and fine hair can make the top knot more fickle than friendly, and even though bun donuts are an easy way to cheat the system, we don't always have one at the ready.
Talia Cuccia, a marketing manager, has absolutely mastered the top knot, and every time she styles her hair in the enviable knot, people can't help but stop and ask for her secret. We sat down with Talia to get the exact formula for the perfect top knot, and it's incredibly simple.
MORE: How to Get the Perfect Ballerina Bun
"Honestly, I don't have much time to be heat styling my hair every day because I'm always running from work to the gym or out with friends," Talia tells us. "After I shower at night and my hair dries about halfway, I put in Giovanni Frizz Be Gone Serum from where I'd start the base of a low ponytail and down to the ends of my hair, then comb (never brush, it causes frizz) through my hair. In the morning, my hair doesn't have any frizz, which is key for a top knot. I start by pulling my hair into a high ponytail, just at the highest point on the back of my head, then I twist the lengths of my hair. Not too tight, but not too loose either, and then I start wrapping my hair around the base of the ponytail, keeping it tight as I go. I use those hair pins, not bobby pins, to tuck in any ends that may be sticking out (because layers are the worst for top knots) because they sit better in the top knot than a tight bobby pin."
Image Courtesy of Talia Cuccia
Where to Buy: Giovanni Frizz Be Gone Serum, $8.99, Soap.com