We all have different beauty skill sets. Some of us can whip up just about any braid, others have perfected the art of at-home blow-drying or are able to call themselves almost-pro at grooming brows. Then, there's always that routine that's especially difficult for us individually, and if eyeliner is that craft, drawing just one acceptable-looking line above your lashes, let alone a cat-eye wing, can take what feels like light-years and has probably been the source of the totally untrue phrase "I'll be ready in a minute!"
Some of the problems for those who aren't gold medalists at applying eyeliner are shaky hands, uneven lines, uneven wings, or simply placing the liner too far away from your lash line, making it appear like you drew a line on the center of your lid.
Felt-tip pens or felt-tip markers make liquid application easier, but sometimes you still face the trial of applying TOO much product to your lids—and quickly fixing liner, especially if you've already finished with your shadow or if you're in a hurry, isn't anything you want to deal with. But there is one tool that will aid even the worst of eyeliner applicators. You might already have it as a part of your makeup brush set—embrace the angled eyeliner brush.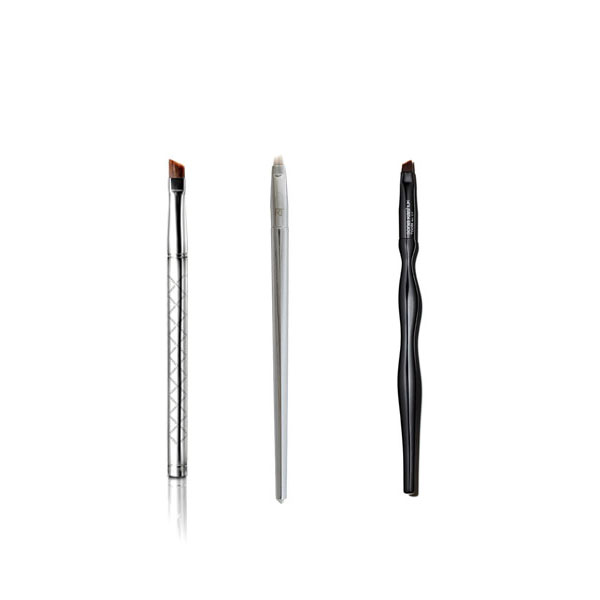 (Where to Buy From Left to Right: By Terry Eyeliner Brush, $38, beauty.com; Bold Metals 202 Angled Eye Liner Brush, $16, ulta.com; Sonia Kashuk Angled Eye Liner Brush, $10, target.com)
MORE: 10 Makeup Brushes You Can Find in the Art Store
While many eyeliner pencils come with the convenience of the product already inside of it, the angled eyeliner brush allows you to pick up just the right amount of product and the option of starting slowly and building upon the look. They're super thin, allowing you to create a tiny line near your top lashes if you're trying to go for minimal makeup that still highlights your eyes and makes them pop. The angled tip is especially helpful for creating cat-eye wings. Sometimes having a longer utensil in your hand is more comfortable and keeps your hands farther away from your eyes so you can see. They're best used with pots of gel liner that you can dip into, but you can also pick up the product from a kohl liner by lightly swiping the brush head on the kohl pencil.