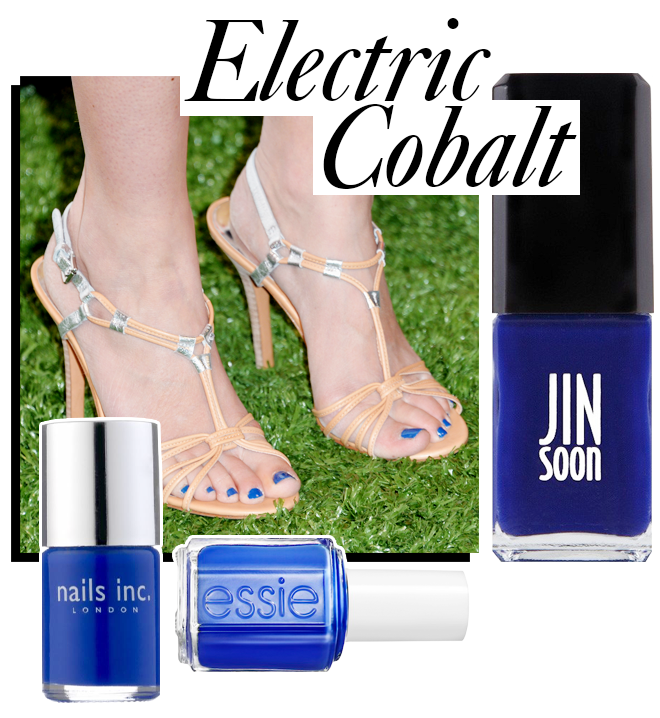 Amy Smart had the prettiest pedicure this week — an electric cobalt — and now we're dying to try the color ourselves. But before we pick up the polish, our toes are in some serious need of TLC after spending months at the bottom of a snow boot. Here are five quick tips to get spring-ready feet that your wedges will gladly welcome.
1. Exfoliate your feet.
To remove any calluses on the bottom of your feet, massage an exfoliating body wash, such as Kiehl's Gently Exfoliating Body Scrub ($28, kiehls.com), in circles. Or better yet, try a foot peel, such as Herbacin Foot Care Foot Peeling ($13.99, Herbacin.com) for a spa-like experience that doesn't require any harsh scrubbing with a foot file.
2. Use a buff block to remove yellow stains.
If you let your last pedi stick around for a while (because the polish can last for months) you may have some yellow stains now. Remove by smoothing each nail surface with a buffing block.
3. Trim and file nails.
Use a straight-edge clipper to trim nails quickly. Apply two to three cuts so you don't cut too close to the skin. Then file to smooth the edges.
4. Apply polish. (Finally!)
Now comes the fun part. There are so many great polishes out this season, but the color we're really dying to try is the bold blue pictured above. The color is bright and works with or without a tan, so it's perfect for spring. Although we're not sure of Amy's exact shade, we've tracked down similar polishes, such as Essie Butler Please ($8, essie.com) which has a perfect shine, Nails Inc. Baker Street Polish ($16.90, nailsinc.com) — which yes, Beyonce wore right after giving birth to Blue Ivy — and Jin Soon Blue Iris ($18, jinsoon.com), which is just a tad darker than the rest.
5. Finish with cuticle oil.
Apply a few drops of cuticle oil to smooth your cuticles. It's best to apply the oil after polish because it helps prevent nicks as your nail color dries.
Read more: DIY A Salon Pedicure At Home