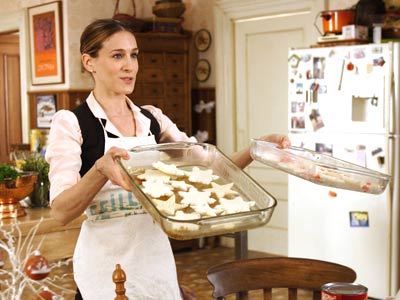 In The Family Stone, Meredith Morton (Sarah Jessica Parker)
keeps her makeup classic for a family holiday weekend
When it comes to party makeup, there is a big difference between going a party with your best friends versus a holiday get together with the family. I'm sure your mother-in-law may be a bit shocked if you showed up in gold metallic eye shadow, but your friends would totally adore it! Here are a couple guidelines:
– Keep the makeup experiments to your personal social events. Try rocking a cool Gucci eye or a total body shimmer for your office party or a friend's holiday bash. This is where you can totally get away with it.
– When its family time, go demure. Don't worry, you can still maintain your sense of individuality. I like to incorporate the trend of the moment in a more subtle way. For instance, instead of an intense red lip, try a lip stain like Revlon Just Bitten and keep the rest of your makeup simple. It won't have the impact of a full red lipstick, but it will look more appropriate around the dinner table. I know you have that crazy aunt who probably wears screaming pink lipstick at these family functions, but that is why you all think she is crazy!
As an established makeup artist, many beauty brands send me samples of their latest products for consideration. I only write about the items that I truly love and I always abide by Daily Makeover's Editorial Ethics Pledge in each of my Positively Beautiful posts.