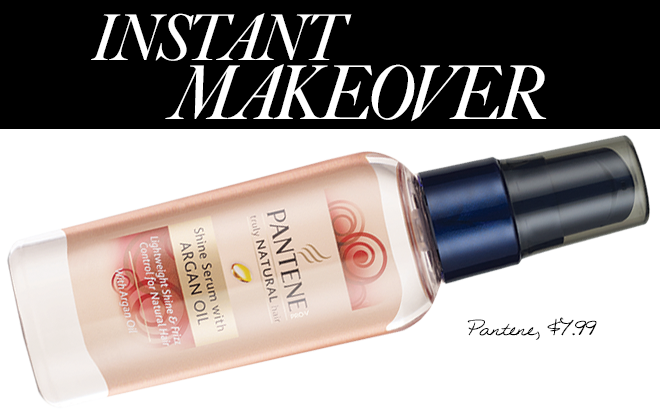 Occasionally we come across a product that bestows an immediate glow, changing our look (for the better!) in an instant. Since we'd be remiss to keep them to ourselves, we highlight these genius finds in our Instant Makeover series.
Growing up with a hairdresser for a mother was a dream for me. Ever since the fourth grade, my hair's been dyed and bleached a handful of colors. While frequently changing styles and colors every few months (just like celebs!) can be fun, it's left my hair damaged.  Through the years I've tried countless products to improve the condition of my hair, and so far I've only found a few that truly work wonders. The latest is Pantene Pro-V Truly Natural Shine Serum With Argan Oil ($7.99, pgestore.com).
Pantene's Truly Natural collection is a line of products created to help manage natural, African American and textured hair. Although I don't have natural hair in the kinky/curly sense, I still decided to give it a try. The shine serum completely tamed my frizz, and left my hair smooth and glossy for hours. It can be used on wet or dry hair, and works like a charm either way. I like applying it onto my hair after I get out of the shower and then letting my hair air dry. On second day hair, I apply the serum again after styling my hair and it completely controls my frizz and keeps it smooth all day long.
Read more: How to Bring Damaged Beach Hair Back to Life