The holidays are here, but our skin might not look like so festive. Pale, dull and pasty winter skin can really get us down. With all the fun party makeup to play with, we want our skin to look alive, warm and glowing. There are a few simple steps to get the color and radiance back to your complexion, so whether you slick on a red lipstick or put on a fun set of falsies you will look absolutely stunning.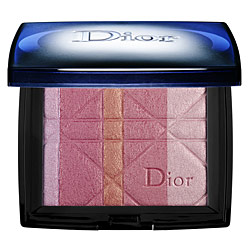 Exfoliating is very important to eliminate dry and dead skin. Your first step is to use a handful of white sugar in the shower when you wash your face to buff away any dullness. Next, a great self-tanner will instantly bring back that vacation glow and help bronze up your face and body to eliminate the dark days of winter. You want to choose a buildable formula this time of year because a deep, dark, savage tan will look wrong in the colder months. Subtlety is key, so go for a tanner that only deepens you one shade at a time so you can control it. I like the new Jane Iredale tanner called Tantasia that contains natural ingredients to deliver an even tan you can build over three days.
After you warm up your face and body, it's time to restore luminosity. Blend on Natural Beauty Inspired By Carmindy Luminizing Face Primer, which contains wonderful light-reflecting pigments that help eliminate the appearance of fine lines and wrinkles and creates a natural glow.
Next, even out your skin tone by using a sheer foundation one shade deeper than normal that will match the tanner new you. My Natural Beauty Inspired By Carmindy Airbrush Spray Makeup has a sheerness that mimics your skin's natural texture but covers imperfections to create a truly perfect finish. You don't want to use a separate bronzer — this would be overkill — so your last step is to apply a soft swirl of shimmering blush like Diorskin Shimmer Star on the apples of your cheeks for a spark of brilliance on the face. Now your skin is alive and ready to party!
As an established makeup artist, many beauty brands send me samples of their latest products for consideration. I only write about the items that I truly love and I always abide by Daily Makeover's Editorial Ethics Pledge in each of my Positively Beautiful posts.