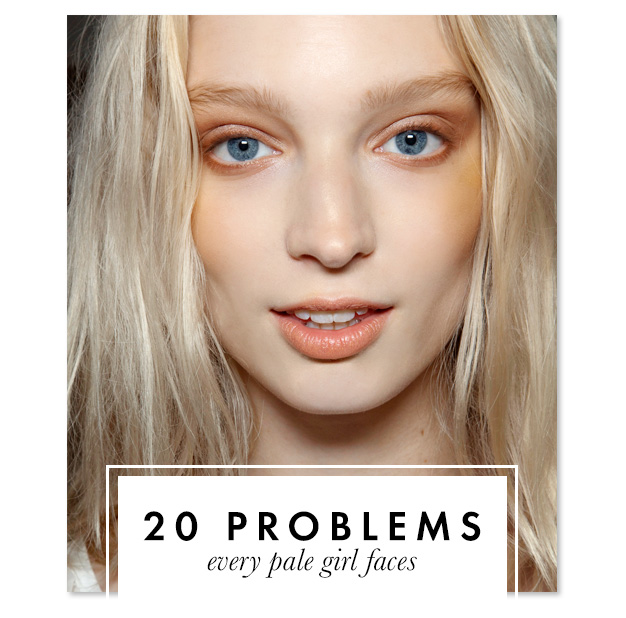 We don't have a problem with being pale, it's the rest of you that are the issue. Like lefties, pale people wander through a world that just wasn't made to cater to their needs. Don't tell me to "get a tan"—try having to coat yourself in SPF 100 every time you leave the house, then we'll talk. Every pale girl is well-acquainted with these 20 facts of fair-skinned life.
1. If you have dark hair, that "freshly shaved" feeling lasts for about three hours until there's five o'clock shadow on your legs. And armpits. And… everywhere else.
2. People asking you if you're tired or not feeling well on makeup-free days. Nope, I'm just not wearing foundation!
3. And speaking of foundation, finding the perfect color match is like finding a needle in a haystack. The whole ordeal has us feeling like Golidlocks—this one's too yellow, this one's too pink, this one's just… no, that one's also too pink.
4. The PTSD incurred by trying on a foundation you feel absolutely sure will suit you, only to be shocked that it is bright orange.
5. Nobody believes you when you say you just got back from vacation. The Bahamas, you say?
6. Two words: Flash. Photography. Slightly less prevalent in most real life situations, but no less alarming: Black lights.
7. We've all but given up on trying to make visible veins the hot new seasonal accessory.
8. Vigorous exercise isn't just exhausting, it's also our skin's favorite excuse for flushing bright red for hours. Seriously, hours.
9. Our skin's predisposition to redness doesn't just stop at exercise: Any kind of peel, wax, facial or other beauty treatment results in hours—and sometimes days—of redness and irritation. Why does "pale skin" seem to translate to "sensitive skin?"
10. Shoes, lipsticks, nail colors, stockings… whatever it may be, if it's labeled "nude," we know immediately that it's not for us. Try "off white," then we'll talk.
11. We somehow manage to get sunburnt while sitting in the shade slathered in SPF 80. It's like the saddest, most painful magic trick of all time.
12. And spray tans? Not a chance. They never, ever look anything close to natural on us. We've tried.
13. The expense of buying a new bottle of sunscreen every week during the summer is in and of itself a #palepeopleproblem.
14. See also: Sunburns… in the middle of December. What little sun there is is made even more powerful when it reflects off the snow. It's a thing.
15. To avoid our facial features being reported as MIA, we always have to wear lip color or eye makeup, and usually not both at the same time, lest we end up looking like kids who got into our mother's makeup drawer.
16. The more skin we show in the summer, the greater the risk of our bright white arms and legs blinding oncoming traffic.
17. We had no choice but to sit out the Chanel Vamp craze, because every time we wear a dark nail polish or lipstick, people accuse us of "going goth."
18. Trying out a new hair color is always a gamble. Will my intended platinum blonde shade make me look like Daenerys Targaryen… or Avril Lavigne?
19. People holding their arm against yours to gauge their own tans never gets old. Never, you guys. Keep it up. Please.
20. Even just thinking about the sheer number of times strangers, acquaintances and friends and family alike have recommended that we "get a tan" makes us want to weep.
Read more: How to Embrace Pale Skin This Summer