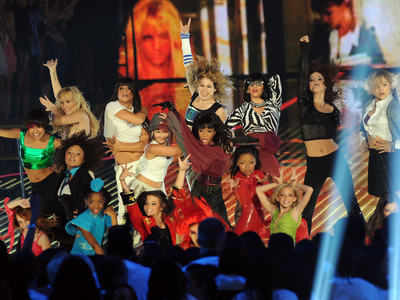 Photo: © Kevin Winter/Getty Images
Everyone knows that sex sells. But how far is too far when it comes to the bottom line? This past Sunday Britney Spears received the Video Vanguard Award at the MTV VMA's, where she was honored with a performance featuring some tween-aged girls dancing to her greatest hits and performing routines from her music videos.
Is your hairstyle right for your age? Find out now!
Sure, Brit was just a teen when her hit "…Baby One More Time" came out, but we were surprised at just how young some of the girls were who were featured in her tribute. The baby-faced dancers wearing loads of makeup and "naughty school girl" outfits just didn't seem quite right. Kind of like another child-exploiting show on T.V. right now (cough, cough Toddlers & Tiaras.)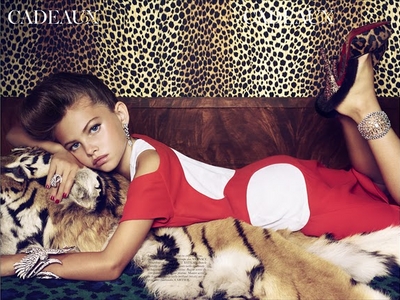 Photo: © Courtesy of Frockwriter.blogspot
Plus, considering the recent controversy surrounding 10-year-old model Thylane Blondeau and her sexed-up fashion spread for Vogue Paris, we're wondering where to draw the line when it comes to being young and dressing sexy?
Earlier this year Blondeau's sultry pictures caused quite a storm when her fashion spread turned out a little more seductive than your average kiddie fashion ad. The French-based child model was photographed dripping in diamonds and wearing heels atop a plush tiger rug, which made her look much older and more mature than a 10 year old.
So how young is too young when it comes to dressing and looking your age? Just as sexiness often has an age cap, it must also have an age minimum. But where exactly does it fall–at 18 years old…15…10?
Tell us what you think in the comments below!


Try on hairstyles for your age in the Makeover Studio!