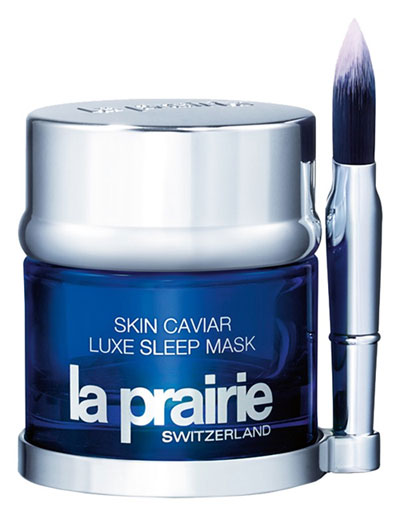 Night cream is old news. The latest way to pamper your skin while you sleep is overnight masks — and they're perfect for the transition between fall and winter when your skin is freaking out. Here's everything you need to know about this necessary addition to your beauty routine.
What is an overnight mask?
Not nearly as gooey as the face masks you're used to, most overnight masks have more of a gel-cream texture that doesn't feel heavy on the skin and won't leave residue on your pillow. They work by infusing the skin with moisture while also creating a humectant seal that prevents that moisture from evaporating. It's like giving your face its own personal humidifier.
What's so great about them?
Because they're designed to work while you sleep, when skin's at its most regenerative, these masks ensure you'll wake up glowing with plump, hydrated, insanely soft skin. We love that they let you skip the waiting and rinsing steps that other masks require. Just apply and hit the sheets.
How do you use them?
Once or twice a week before bed, spread a thin layer of the mask over freshly cleansed skin. Go to sleep, and wake up beautiful. That's it! Sometimes we like to do a gentle exfoliating peel before finishing with the mask. Sloughing off dead skin first lets the mask absorb better and is like a mini-facial you can do at home.
Overnight Masks We Love
Amorepacific Moisture Bound Vitalizing Masque ($60, us.amorepacific.com)
This crazy-hydrating mask is packed with good stuff for skin: amino acids, minerals, antioxidants, the works. A group of ingredients they call the Aqua Sponge Complex helps stimulate the production of hyaluronic acid, a naturally occurring moisture molecule in skin.
La Prairie Skin Caviar Luxe Sleep Mask ($300, shoplaprairie.com)
This luxurious splurge is the equivalent of high threadcount fine linens, for your face — you'll feel like slumbering royalty with its silky, caviar-enriched cream on your skin. It even comes with a brush so you can give yourself the full facial experience.
Korres Greek Yoghurt Advanced Nourishing Sleeping Facial ($45, sephora.com)
The overnight mask from eco-friendly brand Korres features naturally-derived ingredients — including protein-rich Greek yogurt — and is free of parabens, silicones, propylene glycol and other baddies.
Clinique Moisture Surge Overnight Mask ($33, clinique.com)
This oil-free mask uses hyaluronic acid to quench thirsty skin and seal in moisture.
Read more: Cold Weather Skin Mistakes That Are Ruining Your Complexion