With our busy schedules, it's hard to keep up with the dishes and our bills, let alone remember to schedule that monthly facial. That's why we've created a cheat sheet for scheduling cuts, waxes, manis and more. And if you don't have time for so many visits, we've got you covered with expert tricks to make each treatment last longer. Because seriously, who isn't swamped sometimes?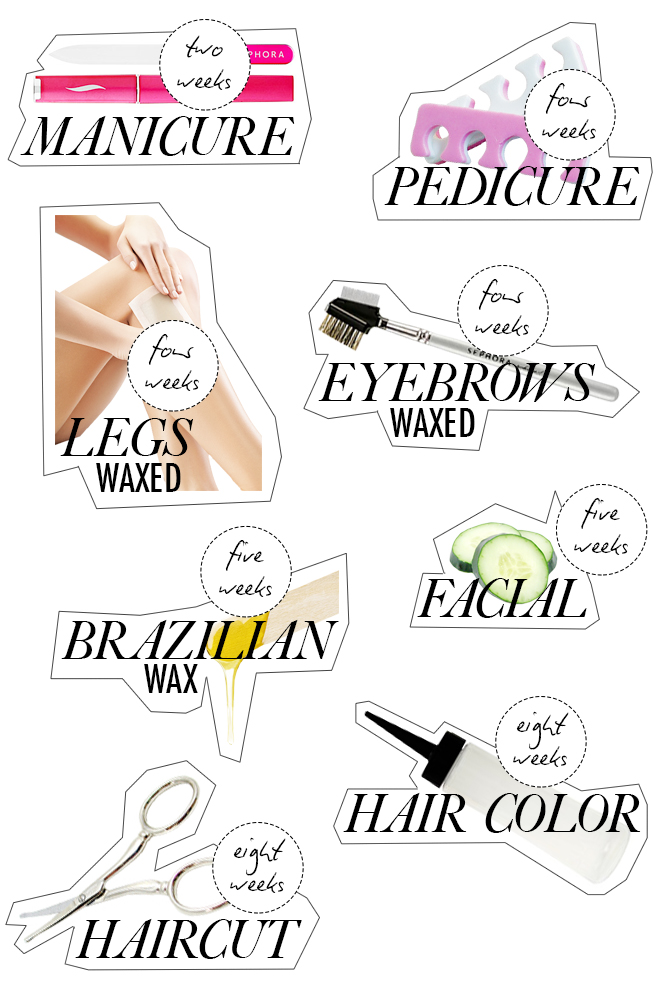 Haircuts
Book your appointment: every 6-8 weeks
Stretch your service: Choose a cut that doesn't need much maintenance, like long layers. To prevent split ends, avoid daily shampoos and always use a heat protecting product, such as Davines Melu Shield ($26, Davines.com), when using hot tools. If your tips need TLC but you can't make it in for a trim, try Tresemmé Split Remedy Split End Sealing Serum ($4.99, Tresemme.com), which helps bind split ends back together.
Hair Color
Book your appointment: every 6-8 weeks
Stretch your service: Shampoo less and condition more. Shampoo fades color by lifting up hair's cuticle layer, so stick to three washes a week. However, conditioners help seal color in. Use a conditioning mask, such as Frédéric Fekkai Technician Color Care 3-Minute Mask ($32, Fekkai.com) once a week. Need a quick root fix? Apply Rita Hazan Root Concealer ($24, Ritahazan.com), an aerosol spray that temporarily camouflages roots and washes out with one shampoo. To battle color-stripping chemicals in tap water, install the T3 Source Shower Showerhead ($130, Sephora.com) to remove 95% of chlorine from shower water.
Manicure
Book your appointment: every 2 weeks
Stretch your service: Bring your own nail polish to the salon. Many nail salons add thinners to extend the life of their polishes. This changes the color and even causes peeling and bubbling. Also, since it takes 12 hours for your nails to fully dry and set, avoid heat during that timeframe — no blowing on nails or washing hands with hot water. Another must: Apply cuticle oil every day to moisturize and prevent polish from peeling. Skip hand lotions because the perfumes and alcohols can dry out your cuticles and crack the polish. Try Julep Essential Cuticle Oil ($18, Julep.com).
Pedicure
Book your appointment: every 4 weeks
Stretch your service: Not all polishes are created equal. Go with lighter polishes so chips aren't as noticeable, or choose a sparkle or shimmer, since they have thicker formulas. If your calluses are your main concern, ward them off by buffing your heels every time you shower. And of course, wear closed toe shoes to prevent wear before a big event.
Facial
Book your appointment: every 4 weeks
Stretch your service: "Exfoliation is the number one step that will keep your skin looking great in between appointments," says Joanna Vargas, celebrity facialist and founder of Joanna Vargas Salon & Skincare Collection. She recommends using the Clarisonic Skin Brush ($159, Clarisonic.com) daily with a cleanser. Another trick is to use a multi-tasking product that exfoliates while it cleanses, such as Joanna Vargas Skincare Vitamin C Face Wash ($65, Joannavargas-skincare.com). "It contains salicylic acid and galactoarabinan, which creates more cell turnover than a glycolic or lactic acid, while acting as an anti-inflammatory." Other at-home options include depuffing the eyes with chamomile tea bags or sleeping in a mask, such as the Joanna Vargas Skincare Exfoliating Mask ($75, Joannavargas-skincare.com).
Eyebrow Wax
Book your appointment: every 3-6 weeks
Stretch your service: "Use a darker colored shadow on the eyelids to hide the hairs," says Katherine Goldman, founder and owner of Stript Wax Bar in California. "Also, you can use a brow brush to tame them into place." We recommend It Cosmetics Brow Power ($24, Itcosmetics.com), a brow pencil and brush combo that's waterproof and lasts all day.
Brazilian Wax
Book your appointment: approximately every 4-6 weeks
The trick with a Brazilian wax is that the hair must be long enough to wax but not too long that its painful to remove. "The hair should be at least 1/4 inch, but preferably 1/2 inch," Goldman says.
Stretch your service: "Purchase a hair-inhibiting product that can slow down the hair growth between visits," Goldman advises. We recommend Bliss Ingrown Eliminating Pads, which also exfoliate ($38, Blissworld.com). "Be sure to moisturize the skin daily after the initial waxing, as dry skin can trap the hair, making the Brazilian less effective."
Leg Wax
Book your appointment: every 3-6 weeks
You want to capture the hair growth cycle every time you wax, which reduces the amount of hair that grows, so hair will grow thinner and finer.
Stretch your service: Goldman advises, " Make sure to exfoliate and moisturize every day with a hair-inhibiting lotion or gel. Do not shave in between visits, as this can actually stimulate more hair to grow."