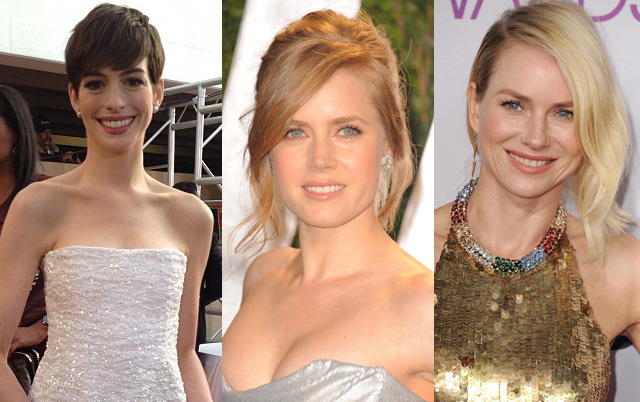 Ah, the biggest event of the red carpet season is just about here: the Oscars broadcast is Sunday! While we get all of our snacks and besties together to ogle and judge (because we do, if we're being totally honest here) we'll also be looking to spot some red carpet trends, particularly those of the beauty variety. What can we expect to see? We decided to approach some of our favorite experts who have styled some of the top faces that appear on the crimson rug. Here are some top tips from both Charles Baker Strahan, Herbal Essences' Celebrity Stylist and Celebrity Makeup Artist Amy Nadine on what you can expect to see in terms of beauty this weekend:  

Charles, what are some of the biggest red carpet trends in hair that you expect to see on the red carpet this season? I think we'll see a lot of polished updos this year. If anyone wears their hair down, it will definitely be very manicured and elegant, like the huge side-side swept trend with Old Hollywood waves we've seen lately.
What about texture? Do you think we'll see more soft hair, a bit more sculptural? I think we will be seeing more soft and sculptured textures at the Oscars versus more rock 'n roll waves or twisted, braided styles. I think the hair will reflect the sophisticated and elegant feel of the Oscars.
Which stars are you particularly interested in seeing on the red carpet? I am so curious to see what Jennifer Lawrence is going to do; she's gone back and forth on her hair color, so I can't wait to see what color mood she'll be in for the Oscars. I also love to see what Angelina Jolie does every year. She always walks fine line between edgy and earthy – it's so much fun to see what she chooses. I'm also so excited because I'll be working with E!'s Giuliana Rancic on the red carpet this year and will get a first-hand look at all that amazing hair.
You've worked with quite a few women for red carpet appearances. What are some ways you prepare them for their ultimate red carpet hair? I always say creating a great base is essential to creating any look, and Herbal Essences just relaunched its classic Smooth and Shine Collections from the '90s, which smoothes the damage of uplifted cuticles created by styling, plus conditioners to protect against future damage. It's perfect for silky, shiny and glossy hair – perfect for Oscar night.
Okay now let's talk makeup. Amy, what are some of the top makeup trends that you think we'll see on the red carpet this season? Smokey eyes are always a popular choice on the red carpet. This season, I think we'll see more refined versions with single washes of shimmering color, letting the drama come from lashes and bold lips, particularly with spring's lip trends. Expect lots of pink, coral and of course the always-classic red pout.
Which stars are you particularly excited to see on the red carpet this season? Who do you think will be amazing? I'm really excited for Jennifer Lawrence (you know her hair will look gorgeous too), and I love Anne Hathaway and Jessica Chastain – I can't wait to see what gowns they'll pick with their fabulous hair! Also, I think Amy Adams, Naomi Watts and Jennifer Garner will look amazing, as always.
When it comes to red carpet, which do you think makes the bigger impact: bold eyes or a bold lip? That's a tough one, but I would say a bold lip makes a bigger impact. I think when someone walks onto the red carpet, people should think "wow she looks so pretty!" not "wow she's got a lot going on with her makeup." Makeup should bring out your best features but not be a focus point. A bright red lip isn't natural, so it's meant to turn heads and make a statement. I love cult classic M·A·C Lipstick in Ruby Woo or CoverGirl LipPerfection Jumbo Gloss Balm in Ruby Twist for my clients who want to stop traffic, but feel like they're wearing a silky lip balm.
The rigors of the red carpet must call for some preparation. What are some ways you ask your stars to prepare for their best red carpet makeup moments? I always ask them to exfoliate their skin the night before, not just their faces but their whole bodies. I love Lancer Polish for the face then a dry brush for the body. I make sure to tell them if they get a blemish not to pop it but hold a hot wet washcloth on top of it for a minute instead, then gently slide the top of the pimple off so there's no inflammation or irritation. If it's really deep, I have them stop by dermatologist Dr. Jessica Wu's office for a quick shot of cortisone. Then I just tell them to relax and enjoy the day, that everything will come together perfectly.
Courtesy images