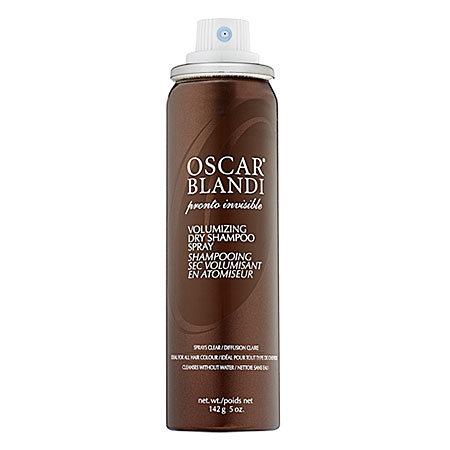 At Beauty High we constantly have new products crossing our desks and are always on the hunt for the next best thing. "The One Thing" is our way of sharing with you that must-have product that you need to introduce to your lives right now, even if it means skipping Starbucks for a couple of days.
Since we're always on the go and attending the latest events to bring you beauty news, we don't always have time to wash our hair and style it every day. Yet as beauty editors, we wish to have envious (and clean) hair every single day. Thankfully, there's a solution so we don't have to hide oily hair under a hat (and as a result, end up with hat hair). Dry shampoo is a godsend for any girl with a busy schedule, but there are so many different brands out there and some can leave you with white residue or a dry scalp. Oscar Blandi's Pronto Invisible Volumizing Dry Shampoo Spray is the one thing to keep in your beauty cabinet and in your purse.
What Makes It Different:
Hence the name, it's invisible. It's a clear formula that works with any hair color and won't leave any noticeable residue.
It boosts volume instantly so when your day-old hair is looking a little flat and helpless, this dry shampoo will revitalize your hair. Even if you have thick hair, it'll give you that body and texture you need to create the latest styles.
Gentle starches absorb excess oil while vitamin E strengthens and protects your hair.
Why It's The One Thing:
Dry shampoo is a must for any busy girl and Oscar Blandi's comes in a large bottle and a travel size bottle so you can take it with you whenever you need to "wash" your hair. We love it because it means we get to skip the hair washing to sleep in a few extra minutes on some mornings and still get to the office with fresh-smelling hair with volume.
(Oscar Blandi Pronto Invisible Volumizing Dry Shampoo Spray, sephora.com, $25 for 5 oz bottle)