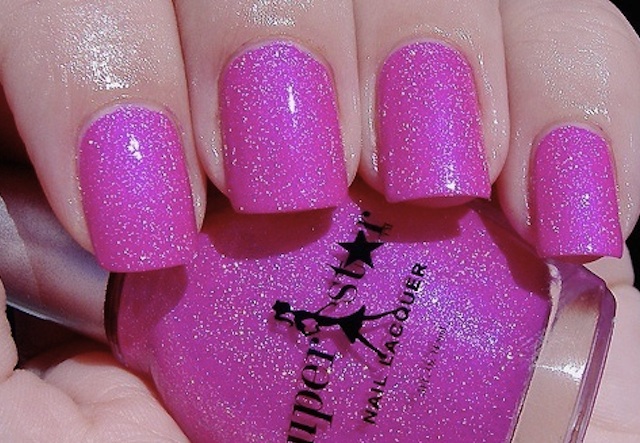 These days, you can get just about anything organic—fruits, veggies, face wash, you name it. But now that we're seeing more and more nail polishes claiming to be gluten-free, vegan, organic, or some combination thereof, we wanted to get the inside scoop on how they're different from regular polish and why we might want to consider using them for our next mani creations.
We chatted with career expert and life coach-turned nail polish designer Stacia Pierce, who's behind the all-natural line Superstar Nail Laqueur, about the differences between traditional polish and organic ones.
Beauty High: Why try natural polishes, in your opinion?
Stacia Pierce: Natural nail lacquers overall are better for your nails because of the quality and the exclusion of many harmful toxins contained in traditional nail polishes. Our brand, Superstar Nail Lacquer is vegan-friendly and toxin-free. It's great because it is also safe for moms-to-be. Many times, pregnant women will not wear nail polish during their pregnancy because they want to keep the baby safe from any harmful chemicals. With our polish, a mom-to-be is able to carry her baby safely while still keeping her glamorous looking nails. Even if you are not expecting, you can still keep your fabulous look while remaining healthy. Also, natural polishes tend to be scratch resistant and waterproof.
Studies have shown that chemicals like toluene and formaldehyde, which are found in most nail polishes, can be harmful to the skin—why are they so bad?
There are others, but these chemicals can stay in your system for a significant amount of time and research has shown that they can cause cancer and internal toxicity. Not only can they be harmful to your body, but also they are bad for the environment.
What prompted you to make your line all-natural?
We wanted Superstar Nail Lacquer to be a natural line because we wanted to offer a healthy alternative to having fabulous nails. Many times women take care of our bodies by working out and eating healthy, but we neglect the little things. It seems like a small issue, but over time can become big! A toxin-free, vegan-friendly and eco-chic polish was my answer to this problem. We wanted to offer a product that was safe for moms-to-be and women on the go, yet fashionable. We wanted to keep colors vibrant and fashion forward even though our polish is natural.
But there are some drawbacks to natural polishes, right?
The complaints you will hear the most about natural polishes is that they chip and don't last as long as traditional nail polishes because of the chemicals or formulas that have been taken out. If you wear natural nails with no gel, acrylic, or tips, your nail polish will tend to chip faster, especially if you are using your hands a lot to wash dishes or clean. That is with any nail polish, traditional or natural.
Any tips for making  polish last longer?
Try doing your nails at night before bed. That way the nail polish has time to settle and thoroughly dry and it will last longer overall. Also, store your polish in a cool, dry place with little or no sunlight, it will make it last twice as long.
Image via Superstar Nails
More Manicure Month From Beauty High:
WATCH: How to Get Ice Cream Cone Nails for Summer
Nail Art How To: Picnic Nails Perfect For the Park
WATCH: How to Get Leopard Print Nails