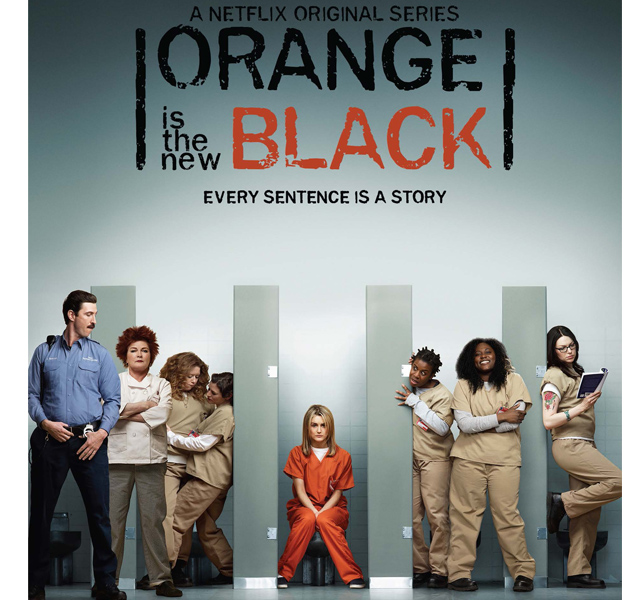 We don't know about you, but we recently disappeared into a 13-hour black hole to devour Netflix's new original series, "Orange is the New Black." And despite the toll on our bodies and relationships, we have no regrets–it's just that good. Addicting plot, powerful performances and cliffhangers aside, we love the show first for finally putting the spotlight on women and minorities, and second for addressing the oft-ignored elephant in the room, makeup.
Though it's definitely not going to be inspiring any braid tutorials or headband crazes, "Orange is the New Black" does makeup one better: treats it realistically. While most shows rely on it just to make actors look backlit all the time or to feign a plot-turning pimple (cough, "Full House"), Orange respects the important role that makeup plays in most women's lives. Many rely on it to express their identity, and from the opening sequence to its role in a transvestite's transformation, the show tackles that aspect of humanity as well as it does issues of homosexuality, infidelity and discrimination. An orange jumpsuit is an instant equalizer, and not always in the good way; makeup is often inmates' only chance for individuality, and one that takes on all the more significance for it. Yet that's not to say it isn't relatable–we know just how relaxed main character Piper (Taylor Schilling) feels when she has her hair washed at the prison salon. Some things are universal.
To get a behind-the-scenes look at how they did it, we spoke to head makeup artist Michal Bigger, who's previously worked on films like "New Year's Eve," "The Vow" and "Avatar." Read on for the down-low on dark circles, the opening sequence and the surprising secret behind the show's transgender transformation.
Beauty High: How big a role does makeup play on the show, to express the characters' nuances when they're all in jumpsuits? How much direction do you get from Jenji Kohan, and how much freedom do you have? 
Michal Bigger: It's very important to give all the characters identifying features since they are all in the same drab uniforms. There has been a lot of discussion and tweaking of makeup and hair throughout the season. Jenji is our sterling point of reference, always. She knows everything about each character, and can instantly enlighten us as to back story, future intentions and inner thoughts. She is so amazing and smart. That said, she is completely open to ideas and creativity, and will fold in anything that works. She's my inspiration.

The opening sequence relies heavily on makeup to indicate each character's past, how did you decide on those?
Those are all real women prisoners that flash by during the theme song! The real Piper is in there too.
What products do you use to create Piper's normal look? How do you convey the difference between her WASPy past, where in flashbacks she's also wearing very natural makeup, to the present, where it's not by choice?
Taylor [Schilling] is incredibly beautiful, inside and out. I play down her most glamorous characteristics while she's in prison, and let her natural beauty shine out during the flashbacks. I use a wide variety of products on Taylor, but we use a lot of Make Up For Ever in general. Skin care is critical in any show, and we use Dr Haushka primarily.
Piper's meant to be having a rough time in prison, losing the healthy, taken-care-of sheen that she had outside. How do you express that with makeup?
I accentuate under the eyes, dull the colors down a bit, mostly hide Taylor's natural glow.
Each episode explores a different inmate's backstory—how do you acknowledge the period change, while keeping the character essentially the same? How do you convey that?
Not only do we have to convey the period, but we have to make each character younger. It is a fun challenge.
What's been your favorite look to create? The flashbacks to a younger Piper and Polly are so much fun, because you can still see glimpses of who they are in the present. How do you choose what to keep, or how "period" to go? 
The flashbacks are brief and often in situations that don't immediately cry "period." Sometimes it's up to hair, makeup and wardrobe to accomplish the task alone and fast. Every situation is unique, and a lot of thought and research and testing goes into each one. Which one was my favorite? So hard to answer that. Piper was fun because whatever we did with hair and makeup, Taylor ran with. She is the MOST incredible actress.
Laverne Cox's character undergoes transgender surgery, in her backstory originally appearing as a man. How did you handle the makeup for that? Makeup also plays a huge role in her storyline, representing her womanhood and empowerment. How do you depict that, while remaining respectful? 
My Key Makeup, Karen Reuter, gets all the credit for that. Karen did an amazing job, as did Laverne. We did a lot of testing  to turn Laverne into a man. We laid on hair, gave her beard shadows, thickened her brows, the whole package…but she is so completely feminine, when we found out she had a twin brother, we jumped at it. What a stroke of luck! So her identical twin brother played the fireman.
Unlike many other shows, each character's look is completely different. How long does it take to do each of their hair and makeup? What do you do to ensure continuity?
Thank you for noticing all our hard work! We have worked very diligently to distinguish each character from the other. I'd say we average about twenty minutes each for makeup alone, with time added for tattoos and special effects.  We have thousands of photos and shelves of continuity books to keep track of everything.
More From Beauty High:
50 Best Beauty Blogs
50 Beauty Rules to Break
101 Beauty Tips Every Girl Should Know