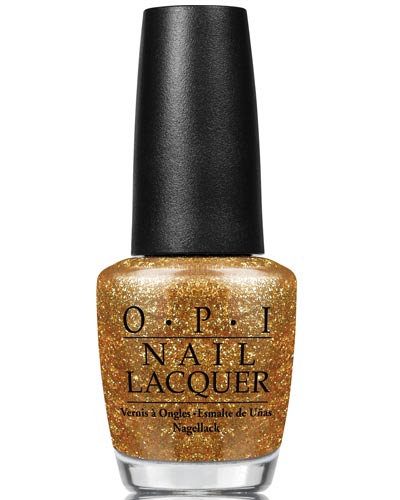 At Beauty High we constantly have new products crossing our desks and are always on the hunt for the next best thing. "The One Thing" is our way of sharing with you that must-have product that you need to introduce to your lives right now, even if it means skipping Starbucks for a couple of days.
Oxblood has been one of the most popular colors to incorporate into your fall beauty palette, and one of the best complimentary colors to a deep wine is a bright gold. Metallic nails have also been everywhere lately and mixing a bright, metallic gold with a bold oxblood makes for a gorgeous manicure. Trying to find the perfect gold, though, is a bit of a challenge. Enter OPI's newest addition to their gold family: "GoldenEye" from the Skyfall James Bond Collection. The sparkly hue is ideal for both painting over other colors and standing alone. In short, it's the gold we've all been searching for.
What Makes It Different: 
This gold comes out like a true 18 karat gold, not like a brushed or rose gold that is common in other gold polishes.
Unlike other glitter polishes, taking this polish off isn't a nightmare (meaning you can wear it without worrying about the removal process).
It can be layered over a color or can be worn on its own. The more layers you paint, the deeper the gold will look.
Why It's The One Thing: 
Finding a gold polish that really grabs attention can be difficult. Other gold polishes are either a solid metallic or separated glitter, but GoldenEye is a solid glitter polish, plus it's got OPI quality consistency and brush so it's guaranteed to get compliments. This gold is bright, fun and versatile – we love a good multi-tasker!
(OPI GoldenEye Nail Polish, $6.04, amazon.com)