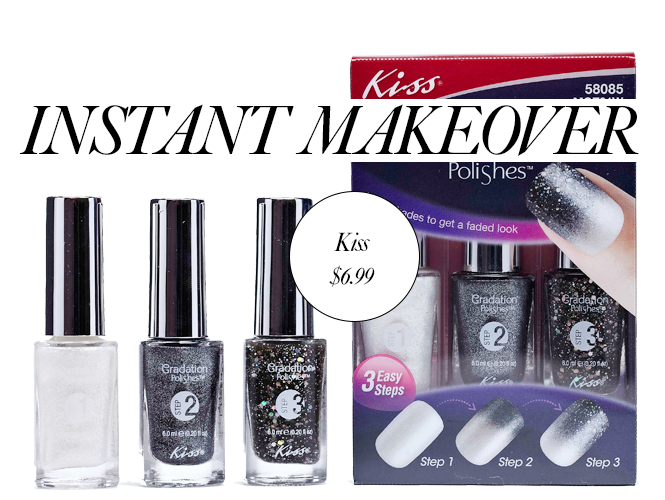 Occasionally we come across a product that bestows an immediate glow, changing our look (for the better!) in an instant. Since we'd be remiss to keep them to ourselves, we highlight these genius finds in our Instant Makeover series.
Ombré nails are considered one of the easier nail art trends to do yourself, but they're not that easy. I've tried to create the look using a sponge, but I always end up with streaks and a sponge-like finish. Since giving up on that method, I've had trouble finding anything else that works seamlessly — until I discovered Kiss Gradation Polish ($6.99, walgreens.com).
The set includes 3 monochromatic polishes — two shimmer polishes and one glitter — that are easily layered to create an ombré effect. Follow these simple steps to get the look yourself:
Step 1: Apply two coats of nail polish #1.
Step 2: Starting at the tip of the nail, apply one coat of nail polish #2, brushing 1/3 of the nail up.
Step 3: Before nail polish #2  dries, apply one coat of nail polish #3. Start at the middle, moving down to the tip of the nail. Finish with a top coat.
Film Noir Black, pictured above, has the boldest contrast. For a more subtle ombré, try the kit in Exposure (gold), Big Break (blue) or Freeze Frame (pink).
Read more: Instant Makeover: A Leather Nail Polish For Subtle Texture