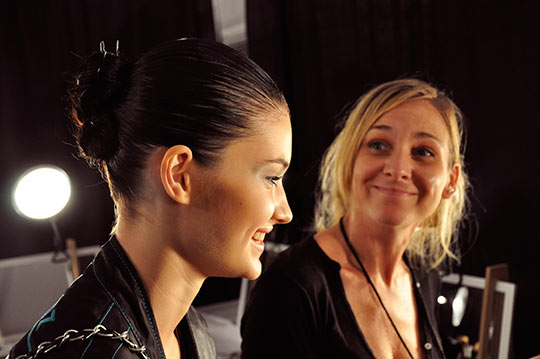 MAC lead makeup artist Chantel Miller
Photo: Nathan Bush
Models had the blues backstage at Tony Cohen on Tuesday night where MAC lead makeup artist Chantel Miller created a shimmery eye in a gradient of baby blue shades.
She started off by applying a blue pigment on the interior of the eye socket and the extreme outer edge of the eye, creating a soft wash of color that varied slightly in tone. The shadow extended up into the temple and down into the blush, which created for a very interesting profile look. She then applied Eyeshadow in Satin Taupe into the crease to create definition and to make the color more wearable. This created a sheer ombre effect where color was more concentrated on the lid and faded out into a luminous tint on the sides of the face.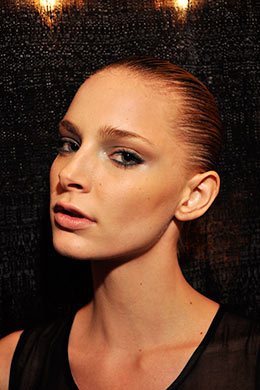 The final makeup look
Photo: Nathan Bush
Miller then applied Power Point Pencil in Grey Utility on the upper lashline and blended it outwards, then put it on the bottom inner rim and smudged it. "It's not about a hard structure or lines," she said. "It's a sheer veil of color, very soft and whimsical with just a hint of structure." Zoom Lash mascara was used for a strong lash look.
Miller used a sculpting powder on the cheeks to create a bit of radiancy. She used a large brush she had used just prior to apply the foundation and pressed the powder down into the cheek, swirling it in a circle so that the color worked into the foundation while it was still damp. "This makes it look like the radiancy is coming from within you, as opposed to something just lying on top of your skin," she said.
For the lips, Miller created a nude look by using concealer on top of the lips to mute the models' natural redness, then applied a lip balm on top to add a bit of shine.