Growing up as a kid, I wasn't exactly what you would call athletic. Sure I participated in sports, but I definitely wasn't the star athlete. More often than not my innate klutziness would cause me to trip over my own feet mid-kick in soccer or beam my best friend in the face with a softball (sorry about that Jenn). So I've always had a lot of respect for those people who are, in fact, talented in sports and/or have normal control of their motor skills.
Because of my serious lack of hand-eye coordination, the Olympics have always held a special interest for me–being able to watch incredibly talented athletes compete in their prime is just an amazing thing. I never imagined that I would one day have the opportunity to actually speak face-to-face with an honest-to-goodness Olympian, but that's exactly what happened a few months back when I sat down with ice dancer and Olympic silver medalist Tanith Belbin.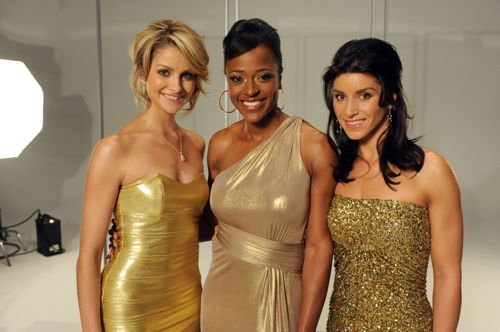 From left: Olympians Tanith Belbin, Vonetta Flowers and Allison Baver.
Photo: © Procter & Gamble
Tanith is one of four "spokesathletes" for beauty giant Procter & Gamble. The brand is an official sponsor of the Winter Olympics in Vancouver and Tanith, along with skier Lindsey Vonn, bobsledder Vonetta Flowers and speed skater Allison Baver will appear in a marketing campaign for the brand. I sat down with Tanith at the shoot here in NYC and got her secrets to keeping her skin and hair in tiptop shape in the harsh winter weather. Read on for her winning tips!
With all of the time you log on the ice, your skin and hair must take a beating. How do you keep them looking great in the winter?
Winter weather or not, because I'm a figure skater, I'm always in the cold and I'm very aware of what those climates can do to your skin and hair. I definitely want to stay hydrated. I try not to wash my hair every day and I use Pantene's Ice Shine Shampoo and Conditioner–it's just perfect for me! It gives my hair that glow without weighing it down and gives it that shine and glisten that makes it look really healthy.
Dry skin is my number one problem and since I get up at 5:30 AM to train, I don't always have time to douse myself in lotion. I've started using body washes like Olay's Body Wash plus Crème Ribbons which have body butter infused into them. I definitely feel like I have that layer of hydration that sort of stays with me. It's not just the cold climate [that makes my skin dry], it's also what I do in ice dancing with my partner. It's a lot of grips, lifts and flips and my skin gets a lot of friction so I like to use something with an almost medicinal level of moisturizers like Olay Quench Advanced Healing Body Lotion.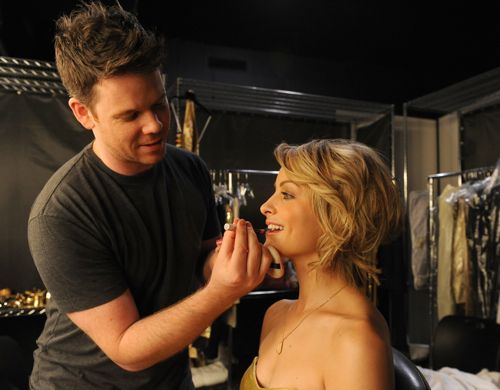 Tanith gets a touch-up from makeup pro Jake Bailey.
Photo: © Procter & Gamble
I was a figure skater when I was a kid and I vividly remember the sheer amount of makeup we would have to pile on our faces. I used to have to go home and scrub my face raw in order to get it all off. How do you remove all of that makeup and still keep your skin feeling and looking its best?
I've obviously tried every kind of makeup remover there is. My skin is sensitive and a lot of those makeup removers make my skin red and irritated, making it hard to put makeup back on the next day. I use Olay Daily Facials Cleansing Cloths because they take everything off really easily and, with all the traveling I do, they're really convenient because I don't have to worry about bringing liquids with me.
I try to take good care of my skin, but it's nearly impossible to keep it perfect when I'm piling on makeup, traveling and dealing with the stress of competition. I just try to be diligent and I always, every time, wash, tone and moisturize. I also exfoliate my skin a couple of times a week.
What is your number one beauty travel tip?
I've learned that when I fly I have to take my makeup off. Going up in that altitude, everything just comes right to the surface. No matter what you think or who you're going to be seen by on the plane, just take your makeup off and hydrate, hydrate, hydrate. When you're flying for so long and changing altitudes and climates and countries, you get really dehydrated so just try to keep moisturized.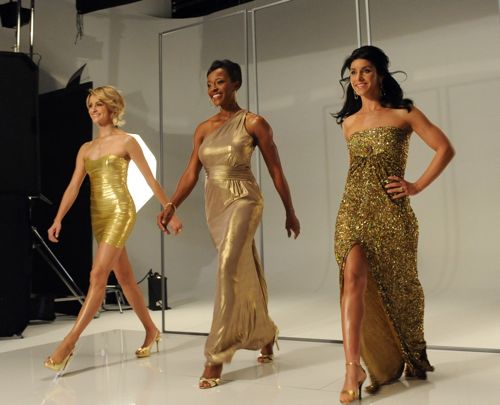 The girls work it for the photographer.
Photo: © Procter & Gamble
What's your one, can't-live-without-it budget beauty buy?
I always buy mascara. I know that people say that there are certain products that you need to spend the money on, but I think that mascara is the number one thing that I find is best at the drugstores.
CoverGirl has the new LashBlast Length Mascara that I love. The brush has a thousand little bristles and it narrows at the end so it's very far-reaching and helps you get that little wing at the end of your lashes. I don't wear a lot of makeup when I train so I find that a bit of mascara and a flushed face are all I need to look fresh at the end of the day.
Now for some even more exciting news: The fine folks at P&G have invited me to head to Vancouver next month to provide you with live coverage of the Olympics! I'll be on site in Vancouver from February 18 through the 21, bringing you the all the scoop on the medal race and the scene at the Olympic Village. Stay tuned for more info as the Olympics approach!
As one the web's largest beauty sites, DailyMakeover.com constantly receives products from beauty companies for editorial review. Please read our Editorial Ethics Pledge if you'd like to know how we select products to feature.