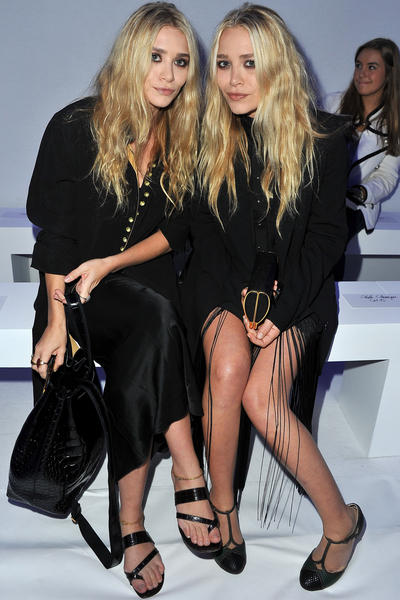 Photo: © Pascal Le Segretain/Getty Images
Mary-Kate and Ashley Olsen's $39,000 alligator backpack was the first item to sell from their new handbag range.
The fashion design duo–who celebrated the luxury collection, which launched under their fashion label The Row, with a cocktail party at Paris store Montaigne Market–were thrilled with the sale of the controversial bag, with Ashley noting that luxury items perform well during uncertain economic times.
Try on Ashley Olsen's hairstyles in the Makeover Studio!
She told WWD, "It was the first thing that sold off the shelf. During our last economic crisis in the U.S., the only thing that went up was Hermes."
Shoe designer Christian Louboutin spoke of his admiration for the collection and says he feels protective of the twins. He said, "I feel very much like a godfather to them. I adore them both. They are very cute and very clever."
Averyl Oates, buying director for Harvey Nichols, who stock The Row, recently claimed the success of the label is due to its "timeless generational appeal."
She explained, "The label carries timeless generational appeal while still remaining directional. Mary-Kate and Ashley recently achieved their ambition of dressing Michelle Obama. Lauren Hutton has also worked with the brand and I think the ageless appeal lies with the fact that the collection has a crystal-clear DNA."


Try on Mary-Kate Olsen's hairstyles in the Makeover Studio!