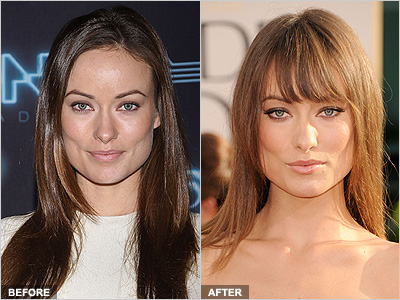 Before: © Victor Chavez/WireImage
After: © Frazer Harrison/Getty Images
Tron starlet Olivia Wilde kicked off 2011 with a major hair makeover by getting statement-making bangs.
Thick fringe hairstyles can sometimes be overwhelming, but she got the right mix of looking bold and beautiful at the 2011 Golden Globe Awards.
"Olivia's entire look was inspired by images she collected of what she refers to as 'the French girl'," says celebrity makeup artist Spencer Barnes who created her red carpet look. From her effortless-looking straight hairstyle to her chic subtly smoky eyes, Wilde was definitely très jolie.
To create her hairstyle, celebrity hairstylist Terry Mullet used Kérastase Volumactive Mousse on wet hair, then blow dried her hair while shaking it out to build body. Once it was almost dry, he started to use a round brush at the ends to give it a clean, just-washed look. Once dry, he lightly massaged Kérastase Oleo-Relax Serum on ends.
"I wanted her skin to look fresh and clean with eyes that extended outward. Touches of rose gold and sheer pink-veiled lips completed her youthful coquette-ish look," says Barnes of Wilde's makeup. He used all new products from the Nars 2011 Spring Collection (launching in February): Hollywoodland Soft Touch Shadow, Mambo Eyeliner Pencil, Madere Pure Matte Lipstick, and Frivolous Velvet Gloss Lip Pencil.
<a href="
/virtual-makeover/celebrity-hairstyles/olivia-wilde"&gt/
;

Try on Olivia Wilde's hairstyles in the <a href="
/virtual-makeover/celebrity-hairstyles/olivia-wilde/" title="Olivia Wilde">Makeover Studio!