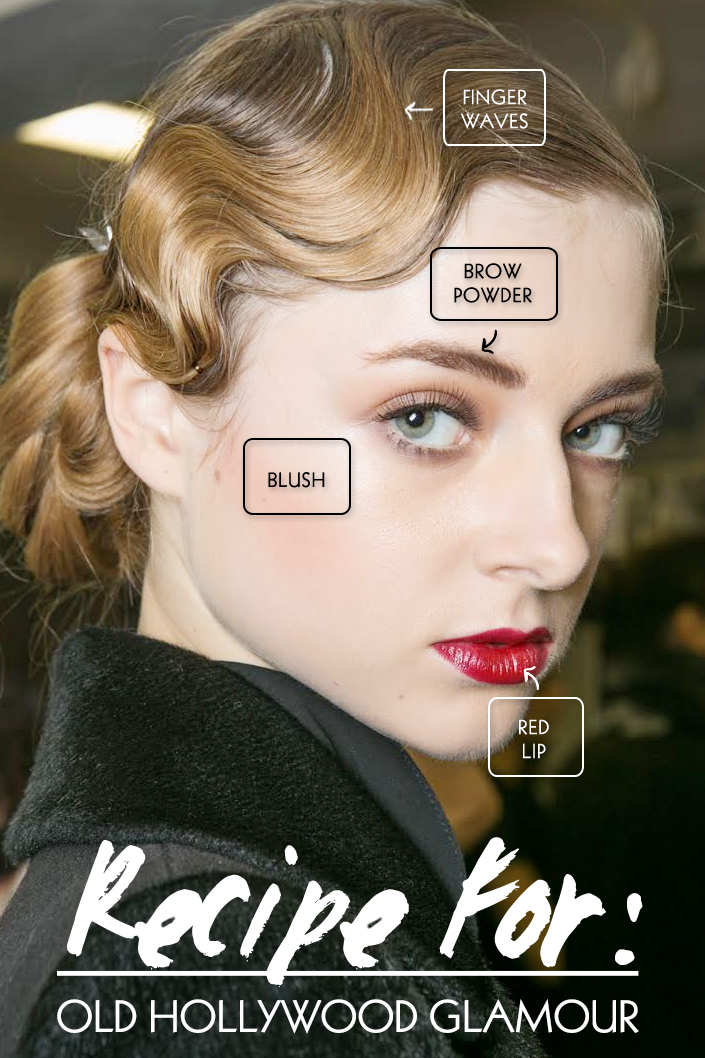 Whether you're heading to holiday parties or you're feeling like retro beauty may be your new signature look, old Hollywood glamour hair and makeup always looks flawless. While finger waves and bold red lipstick make this look noteworthy, there are a few underlying details that shouldn't be overlooked. To help you get the Hollywood glam look just right, we've broken down the steps below!
Finger Waves: The old Hollywood glamour look isn't complete without a bit of a retro curl happening. Begin by curling one-inch sections of hair with a one-inch curling iron. Once you release hair from the iron, roll the curl into itself and pin loosely against your head with a flat hair clip. Continue around the head until your hair is completely pinned, and let the hair cool to set the curls. After about 10 minutes, release hair from the pins, revealing gorgeous finger waves. Use hairspray to hold the look in place.
MORE: How to Get the Retro Beauty Look From "The Great Gatsby" Movie
Brow Powder: Using a spoolie brush and a powder about two shades lighter than your natural brow color, spin powder onto the brush and gently sweep into your brows, moving the hairs in an upward and outward direction. The goal here is defined brows, not drawn on brows, so using a lighter powder instead of a pencil will help give you a soft, subtle enhancement.  
Blush: Bear in mind that you'll be wearing a red lip, so your blush should be just a hint of color. With a peach or light pink blush, apply color just under the apples of  your cheeks and up towards your hair line (but not all the way there) for a flushed, slightly contoured look.
MORE: How to Wear Red Lipstick Like a Champ (And Keep It On)
Red Lipstick: Grab a lipstick brush and your favorite shade of red to apply a gorgeous red lip, completing the Hollywood glam look. To clean up the edges and define your lips, dip a concealer brush into just a pinch of concealer and outline your lips, paying particular attention to the corners and the cupid's bow for extra crisp definition.
Image via Imaxtree