To celebrate the launch of the new Olay Body Collection, that features three gorgeous fragrances, we asked you to share how you'll get ready for spring. These tips got us psyched for the warmer days ahead!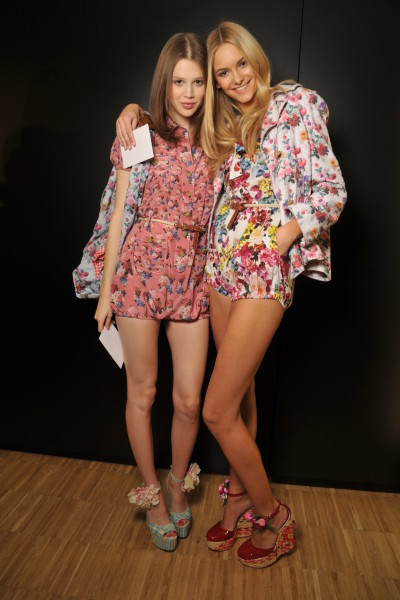 Models backstage at D & G are ready for spring in fun floral prints.
Photo: © Luca Cannionieri
1. "There's nothing like hearing your partner say 'Ooh you have soft skin.' I strive to get body washes that make me feel special." -Gloria
2. "I like working fun colors and prints like florals into my wardrobe with scarves, hats, etc." -Susan
3. "I start using bright eyeshadows and switch from dark nail polish to pink." -Amanda
4. "I think the best look for spring is a healthy hair look, so I whip up a homemade mask that makes my hair very shiny. Mix a ripe avocado with mayonnaise and leave it in for 20-30 minutes." -Kate
5. "My go-to beauty trick for spring is to mix liquid bronzer with moisturizer to give myself a glow." -Cheryl
6. "I go through my wardrobe and get rid of things I feel are outdated or no longer fit. I also like to buy a new body wash and lotion—preferably something I've never tried before." -April
7. "I get a thorough pedicure, then use an exfoliating body wash and loofah to reveal smooth skin and self-tanner to get a healthy glow. I pull out all of my sandals, but walk all around my house barefoot just to enjoy the 'freedom' that spring brings." -Maureen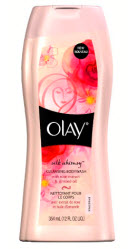 8. "I put away half of the makeup that I use in the wintertime. Plus, I make sure that the makeup I do use for the springtime has SPF in it." -Whitney
9. "I'll do a gentle detox based on fresh vegetables, lemon water, and light protein with fresh fruits." -Helene
10. "My most anticipated activity as I get ready for spring is the pursuit of a new bathing suit! The next thing I do is ramp up my exercise regime so I look my best in that new suit." -Debbie
Editor's Spring Tip: When spring rolls around, the last thing we want is to be the overly perfumed chick smelling up a room. That's why we love the new Olay Cleansing Body Wash With Rose Extract And Almond Oil in Silk Whimsy. This floral body wash moisturizes skin so it feels soft and leaves a light, lingering floral scent that is just right.
As one of the web's largest beauty sites, DailyMakeover.com constantly receives products from beauty companies for editorial review. Please read our Editorial Ethics Pledge if you'd like to know how we select products to feature.