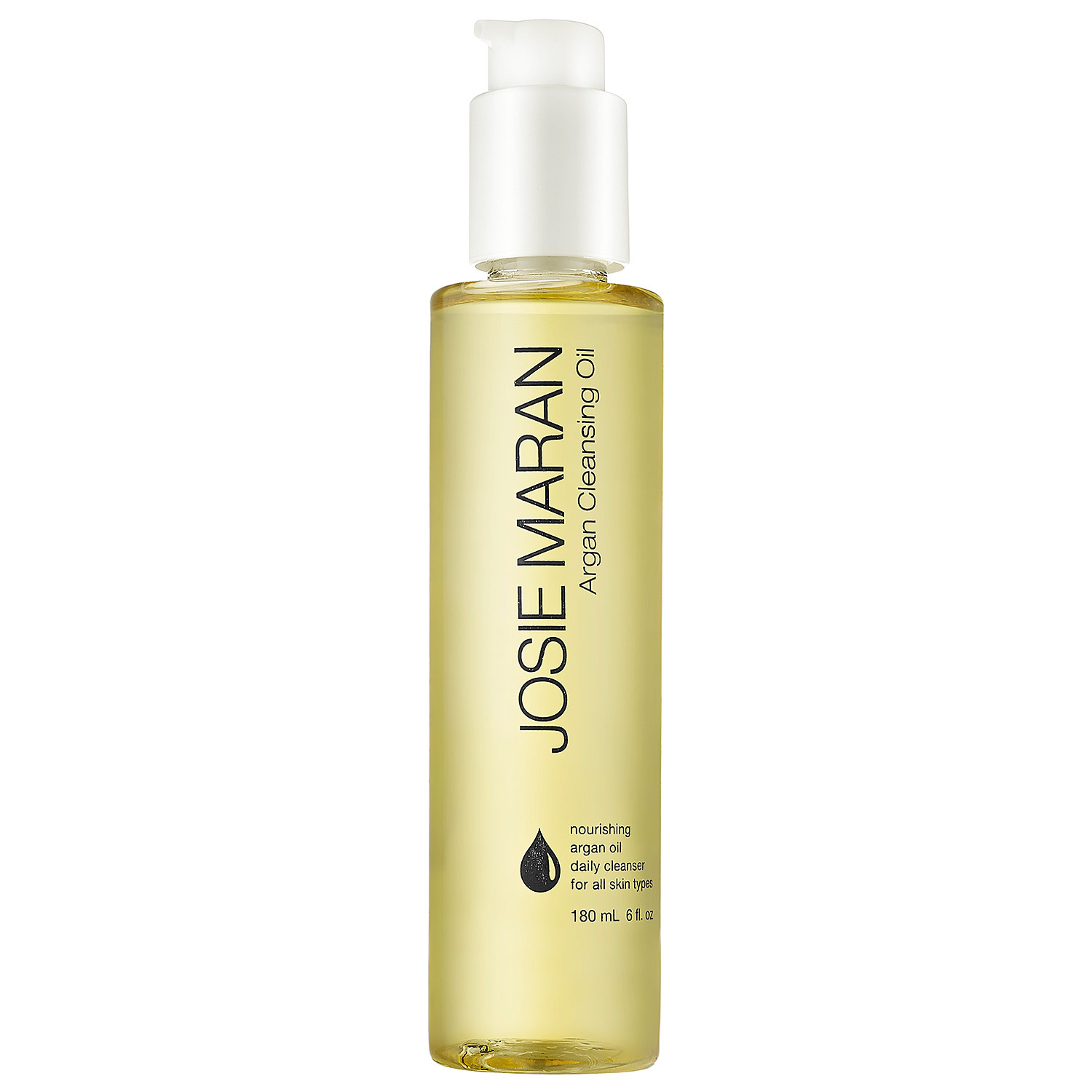 Like many beauty editors as well as non-career beauty trailblazers, I've long touted the benefits of using oil-based cleansers and moisturizers. The irony of oil-based skin care is that the acne-prone among us—yes, myself included—spent the majority of our respective adolescences steering clear of anything that even suggested it might contain a trace of oil.
I was this close to exiting my teenage years unscathed by acne. I'd occasionally develop an annoying whitehead that would clear up with a little bit of benzoyl peroxide and a few days' time, but that was the extent of my experience with blemishes. I couldn't tell you what, exactly, happened when I turned 18, but within the year I started struggling with painful, inflamed cystic zits that would appear only on my chin, suggesting that hormones were to blame.
I took anti-acne antibiotics for about a year, and then went cold turkey because a) I was concerned about what they were doing to my body, and b) I ran out of them. As soon as the drugs had left my system, I started getting scattered breakouts all over my cheeks. While the whiteheads weren't nearly as painful as the throbbing under-the-skin welts I had dealt with previously, they were, make no mistake, incredibly annoying and detrimental to my self-esteem. I'm vain. What can I say?
Unlike my makeup routine, I rarely use the same skin care products continuously, instead switching out for a new cleanser or moisturizer every few days. It's the nature of my job, as well as my inclination toward beauty boredom. I guess I was so fed up with the state of my skin that I was just ready to commit to something and see how it worked. I turned to an all-oil skin care routine for a few reasons. I already had several oil cleansers and treatments in my beauty arsenal, and while I definitely rotated them in and out of my routine, I reached for the foaming cleanser more frequently. I've also always had great success with using oils like jojoba, rose hip and argan as moisturizers rather than creams or gels—they just really seem to jive with my oily, sensitive skin.
I've been using exclusively oils on my face for two weeks now, and the results so far are pretty great. I'm reluctant to back anything as a miracle product or "cure," but I've definitely noticed a real improvement, particularly in these three very important areas:
My hormonal acne (fingers crossed) cleared up.
My skin isn't perfect by any means, but I haven't had a cyst in the past two weeks, and the number of annoying-but-bearable whiteheads on my cheeks has been reduced to almost zero. The oil cleanser really helps to unclog pores, so I have noticeably fewer blackheads on my nose, too. I had previously been getting minor breakouts like these no matter what cleanser or treatment I used, but once I started using Josie Maran Argan Cleansing Oil ($32, sephora.com) every day, I'd wake up with clear skin rather than a new cluster of pimples. I don't wash my face in the shower often, but the few times I did I used Boscia Tsubaki Cleansing Oil-Gel ($28, boscia.com), because you can use it on wet skin instead of having to dry off first.
My tone is more even overall.
Acne doesn't just mean having pimples, it also means the aftermath of said spots—scarring. My skin is still fairly good, but my chin and cheeks were riddled with darker areas that were obviously the result of having picked, popped and otherwise fussed with zits. I've been using Josie Maran 100% Pure Argan Oil Light ($48, sephora.com) on its own at night and underneath Boscia Daily Defense Sunscreen Broad Spectrum SPF 50 ($36, boscia.com) during the day, and my skin looks overall brighter and less noticeably scarred. I'm afraid of skin lightening treatments, so I'm thrilled that this combination has actually helped to even out my tone without the chemicals.
My skin doesn't get as oily during the day.
This point in particular is a massive boon for me, because my skin errs on the side of super greasy. I don't even know how it manages to produce so much oil. I rarely struggle with dryness even in the winter, which I'm sure some people would be envious of, but sometimes I head to the bathroom in the afternoon to check myself out and am genuinely alarmed by how shiny my face is. Using oil as a moisturizer has always helped me to become marginally less oily, which I imagine is because my skin thinks, "Hey, I've already got enough oil on here, I don't need that much more." It was only when I started using oil cleanser in conjunction with the argan oil daily, however, that I was significantly less greasy, rather than just a little bit less. As a happy byproduct of this, my makeup lasts longer, and I'm saving money on blotting papers. Excellent!
Like I said before, I've always been the kind of skin care philanderer who just can't commit to one solid routine, but I think that's because I've never found one that really works. My two-week test period is over, but I'm putting most of my other products in the cabinet indefinitely and giving my oil cleanser and moisturizers (and sunscreen, of course) prime real estate on my sink. All metaphors for fidelity aside, it's rare that someone who has the privilege of trying so many products by and large eschews the new, shiny stuff for old reliable, but you can count on me not to stray. For a while, at least.
Read more: Are Face Oils the New Fountain of Youth?