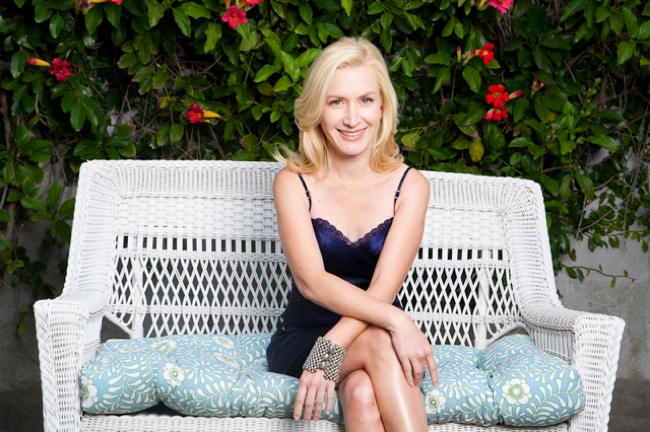 Angela Kinsey, the genius behind The Office's rather uptight Angela Martin, has been starring in Clairol's Nice 'N Easy commercials featuring the "Guardian Girlfriend" Gigi, a character who is meant to help you with all of your color needs. The recent mother and busy actress certainly knows how to keep her beauty routine quick and easy, even down to covering up her roots.
We chatted with Kinsey about her differing roles and beauty secrets – read on for more!
Whats your favorite part about playing Gigi, your Clairol character?
I absolutely love playing Gigi and think that shes kinda that gal-pal that we all wish we had. Shes a straight shooter, lots of fun, loving and a bit of a klutz. My favorite part about Gigi is that she tells it as it is and helps people look fabulous!
Gigi and Angela Martin have very different personalities, how do you get into character for each?
Well Gigi and I have a lot more in common. I love how playful and fun she is so I get excited to come onto the Clairol sets and act a little zany. As far as Angela Martin… Well I can come to work tired and grumpy and I am ready to go!
From your experience with Clairol, do you have any hair coloring tips for the rest of us?
Definitely! Make sure to use hair color that complements your skin tone. Otherwise, you may look washed out. One way to do this is to stay within two shades of your original hair color. That way, youll get flattering hair color with the perfect depth, dimension and shine!
And, how would you describe your beauty look?
As simple as possible. I rarely wear eye makeup. Just a tinted moisturizer, some blush and light pink lip gloss.
What are your cant-live-without beauty products?
Obviously Clairol Nice n Easy Root Touch-up! I usually have a box in stock somewhere in my house and run down the street to Target or a pharmacy to pick up more when I realize I need to restock. And I can't live without my Lancome Juicy Tube lip glosses!
How did having a baby change your beauty routine?
When you have a baby, your priorities change and so does your beauty routine. You never know how vital a good nights sleep is to your routine until its gone! Everything is about good time management and even little things like washing your hair feels like a treat sometimes.
Since youre a busy mom, you must know something about the five minute makeup routine. What are your secrets?
A ponytail it is quick and can hide a greasy hair day! Brush your teeth while youre in the shower, basically any activities and products that can be combined to save time like sunscreen and moisturizer combos etc…
From the countless sets that you've been on, whats the best beauty tip youve ever been given?
I have been given a lot but one that seems simple and true is: Drink lots of water.
We recently found out that Steve Carell will be leaving The Office even before the end of the season. Do you think Angela will vie for the new manager position?
Ha! I wish! There would be a blood bath though… She would probably fire everyone.
GIVEAWAY ALERT: Clairol will be hosting a giveaway from 1/24 – 1/27 on their Facebook page, just "like" the page and you'll have the chance (they will be giving away 100,000 free boxes) to win Clairol's Color Blend Foam.
Photo: Adam Hendershott