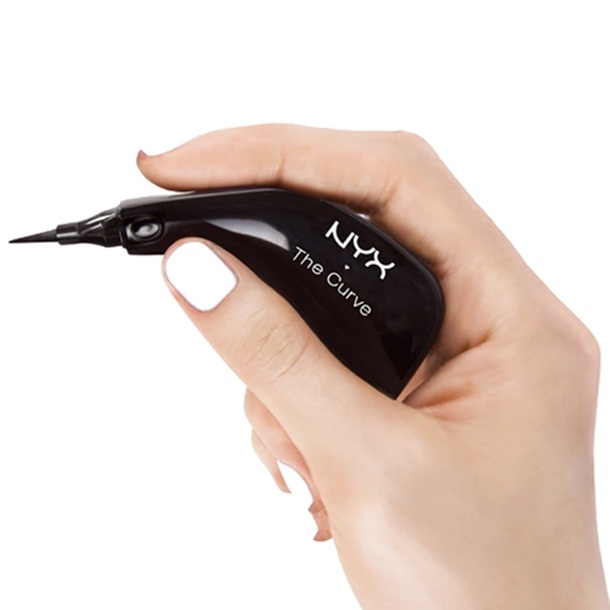 At Beauty High we constantly have new products crossing our desks and are always on the hunt for the next best thing. "The One Thing" is our way of sharing with you that must-have product that you need to introduce to your lives right now, whether it's from a drugstore or a department store.
Let's say it slowly: Li-quid eye-li-ner. For even the biggest makeup lovers, this cosmetics bag staple can bring a ton of anxiety. There are plenty of tutorials on how to get that liquid line just right, but mastering the cat eye is easier said than done. Behold, NYX's The Curve, an eyeliner designed to create the foolproof winged liner look. No more gawking at Lauren Conrad's glamorous wings and thinking you can't achieve in your humble little bathroom, because with the Curve, you can get that chic look in a second.
What Makes It Different:
In a black vinyl package, it's all about the liner's odd shape that makes grasping the product so much easier than liners of the past. This leads to a more direct and controlled precision of lining with its felt tip (finally!).
The quality of the liner is high, and also acts as a great base for layering with other eye pencils or gel formulas if you choose.
The pigment is a perfect jet black and won't smear or smudge.
Why It's The One Thing:
Because the process is so effortless, you'll almost feel an urge to experiment with new liner looks. How about switching up that go-to cat-eye and trying some graphic eyeliner designs? So uncomplicated and fun to use, this underrated tool is what you've been searching for to get the perfect liner look.
Where to Buy: NYX The Curve, $15, Nordstrom.com
More From Beauty High:
Steal the Purple Winged Eyeliner Look From the Spring 2014 Runway
Watch: How to Get Lana Del Rey's Cat Eye Look
Watch: Get Jason Wu's Matte Purple Cat Eye