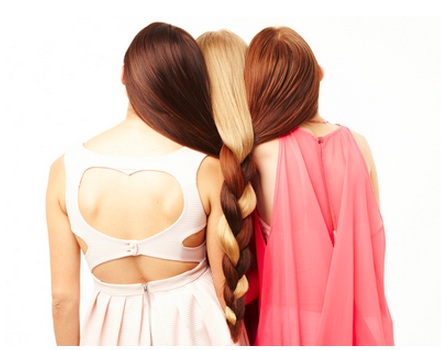 "Do gentlemen really prefer blondes?" is perhaps the most over-asked and under-answered question in beauty. For as long as any of us can remember, the war for hair color domination was waged among the blondes, brunettes and redheads in every category from attractiveness to intelligence. This year L'Oréal Paris attempted to settle the score with their 2012 Hair Color Census by asking 1,000 participants simple questions like, "Who do you think has more fun?" and "Who do your think is the most spontaneous?" Here are some of the most interesting finds:
1. Eighty-six percent of blondes read up to three books a month.
Who says blondes are dumb? Not this survey. According to the census, blondes are brainier than we think. Though brunettes are usually praised as the brain-bearers, L'Oréal crowned a new smarty pants.
Related Link: New Survey Says: Blondes or Brunettes?
2. Red is the go-to color when looking for a change.
Turns out that among these 1,000 participants, if they were forced to change their hair color, these girls would go red. Though it was a close margin for the brunettes, red beat out blonde with 52 percent. Blondes, on the other hand, were more adamant, with 70 percent saying red would be their color change of choice. What color would the redheads change their hair to? Blonde of course, with 70 percent of respondents choosing this light, dramatic change.
3. Brunettes are a girl's best friend — literally.
Of all the hair colors, brunettes win as the gal-pal. Most blondes and redheads responded that their best friends were brunettes — 65 percent to be exact. This actually runs in conjunction with the stereotype that brown-haired girls are the most loyal and trustworthy. No wonder the survey also says that 80 percent of brunettes are in happily committed relationships.
4. Bad hair days are less common for redheads.
According to this survey, redheads are two times less likely to have a bad hair day than their blond and brunette counterparts. Blondes are the next most fortunate, with only eight percent attesting to bad hair days. But brunettes are the odd-girls-out in this category: 40 percent of them said they had a bad hair day at least once a week.
Related Link: Top 16 Gorgeous Redheads
5. Most girls agree on the hottest hair color for men.
It's been said that women like their men tall, dark and handsome — and this survey supports the theory. Brunette men are these girls' preferred boy-toy, with eight out of 10 participants saying that brown-haired men are the most attractive.
Whether the hair color comparisons will ever end is highly unlikely, but new studies are constantly revealing that stereotypes are the carriers of fact and fiction. Perhaps it is all about how you perceive yourself, and luckily for us, hair colors can change. So if you're looking to know if redheads are feistier or if blondes have more fun, grab a bottle and put the theory to the test.
Do you agree with the findings in this survey? Let us know what you think!