Today I decided to give my wardrobe a daily makeover. Instead of wearing the usual jeans to work I thought that I'd break out one of my new black dresses I purchased with some black tights. The funny thing about being dressed up at a company that is so casual is that everyone thinks you either 1.) are going on a job interview or 2.) are going on a date later.
I was doing neither. I just felt like getting dressed up.
I had the outfit down pat and I just needed the shoes to complete the look. None of my pointy heels were doing the trick. I tried a pair of patent leather round toe pumps and those weren't lighting my fire either. I took pause and surveyed my closet one more time.
Oh hello…what is this?
My eyes zeroed in on a box emblazoned with Nine West. Hmm…could I wear them? Should I wear them with this outfit?
The shoes in question were a pair of booties I purchased; my first-ever pair. I know, I know. After all of the hemming and hawing and swearing up and down that a pair of booties would never grace my arches I broke down and bought a pair over the Columbus Day weekend.
You should know that I despised the bootie look from day one. I only ever saw celeberties or Nicole Scherzinger wearing them.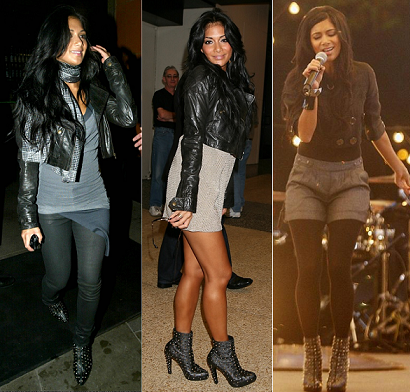 I'm sorry but she could wear a corpse and look good. How was someone like myself who was not a celebrity with a stylist or in posession of super skinny calves supposed to rock the booties.
I wasn't, that's how. So I trashed the bootie left and right and stuck to my pointy toed heels.
That is until I came across the Cedar Grove stiletto bootie from Nine West. -Click on the link and be amazed.- This shoe is not only hot looking but totally comfortable. I was immediately in love when I saw them at Macy's. I ignored the fact that they were booties and tried them on with the speed of a gazelle.
"I'll take them!" I proclaimed to the eager sales guy.
So today I am wearing them with my cute black dress, black tights and a rose themed scarf from H&M. The feedback I've received so far has been positive!
"Oh Lisa you look so cute!"
"YOOOOOU look pretty!"
"Ummmm…what are these shoes?!"
And so on.
I have a new found love for booties. I also just found out that the Cedar Grove stiletto comes in a suede purple color so I'm off to purchase them before they sell out!